Kapil Sharma On a Jeep ride In Canada With Pregnant Wife Ginni Chatrath, Makes Way For Geese Crossing The Road In Fun Video!
Soon to be father Kapil Sharma is currently vacationing in Canada with pregnant wife Ginni Chatrath as the couple takes time out for their Babymoon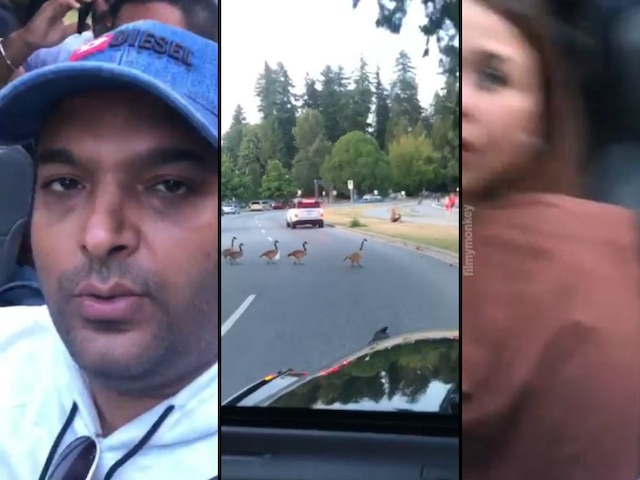 Kapil Sharma's teaser for the Hindi version of Hollywood film 'The Angry Birds 2' dropped on Monday creating quite a buzz while the soon-to-be-father is vacationing in Canada with pregnant wife Ginni Chatrath as the couple are on their babymoon. Kiku Sharda and Archana Puran Singh have also dubbed for the characters 'Leonard' and 'Zeta' respectively while the comedy king lent his voice to the lead character 'Red' in the movie. Ginni is expecting her first child with husband Kapil and the couple took off last week on Wednesday taking some time off 'The Kapil Sharma Show'[
PHOTOS: Ginni Chatrath FLAUNTS BABY BUMP At The Airport As She Leaves For Baby-moon With Hubby Kapil!
]. The comedian had since then only announced his Hollywood debut with the animated film 'The Angry Birds 2'[
Watch at bottom of this article!
] Hindi version on social media. Today he finally shares something from their Canada vacation which is a video of him driving jeep with wife Ginni sitting beside him in British Columbia.
But how could the video be plain-simple when it is Kapil behind the camera! Kapil chose an interesting moment to record the video and it was just when they had to pull brakes for the geese who were crossing the road right infront of their jeep. Kapil kept shooting the geese and panning the camera towards him to interact with fans narrating what was happening. Wife Ginni wrapped in a brown shawl can be seen seated beside but he has made all efforts to keep her from showing and some friends are accompanying the couple too. Ginni's baby bump is not visible in the video as she has it covered under the shawl.
Pregnant Ginni Chatrath on a jeep ride husband with Kapil Shrama in Canda's British Columbia during their Babymoon
Kapil can be heard saying in the video -
"So...ye inki(geese) turn hai toh hamein rukna padega yahan pe because they all are crossing[points back at them]. So jab tak wo log cross nahi kar jaate, hum log gaadi nahi chala sakte. Kaash ye rule hum bhi follow kar sakein apne country[India] mei."
Kapil Sharma posts video from his Babymoon with Ginni Chatrath in Canada
And as the geese almost finish reaching the other end, Kapil asks[local friends seated in the vehicle]
"Can we go now?"
Ginni goes -
"wait wait...wait wait!"
Pregnant Ginni Chatrath on a jeep ride husband with Kapil Shrama in Canda's British Columbia during their Babymoon
And in next few seconds all geese are safely on the pavement.
Kapil's caption to the video reads -
"How beautiful is this ???? #beautiful #britishcolumbia#nature #naturelovers #love#youandme ❤️"
Watch the video below:


Kapil tied the knot with childhood sweetheart Ginni Chatrath in December 2018 and their first child is due in 5 months i.e. December, 2019. Kapil recently confirmed his wife's pregnancy finally breaking silence on the news of Ginni
expecting their baby that broke in May.
"I just want to take care of my wife and be by her side for now. We are obviously very excited as it's our first kid but my mother is the most excited. She has been waiting for this moment for years now. We are just praying for Ginni and the baby's health,"
 Kapil told Mumbai Mirror in an interview.
Wife Ginni Chatrath flaunts baby bump in an all black ensemble at the airport last week while leaving for Babymoon in Canada (Pic: Manav Manglani)
Confirming Wife Ginni Chatrath's Pregnancy, Kapil Sharma Shares That His Mother Is The Most Excited About The Baby!
Kapil's mother Janak Rani is a regular visitor on The Kapil Sharma Show and he very often cracks jokes on her too while introducing her to the celebrity guests on may episodes.


Adding further Kapil said when asked "how is he prepping up for his role of a father?", 
"There is no prep because we don't know if it would be a boy or girl. It's a happy time for the family and everybody is looking forward to welcome the new member". 
Stay tuned to this page for all updates!
Watch teaser of 'The Angry Birds 2' hindi version below which is dubbed by Kapil, Archana and Kiku Sharda: