Kapil Sharma Plays Guitar, Pampers Pregnant Wife With Long Drives On Their Babymoon In Cananda, Asks Her "Are You Enjoying?"!
The Kapil Sharma Show host & wife Ginni Chatrath are set to be parents of their first child soon and the couple has been in Canada for past two weeks spending a vacation together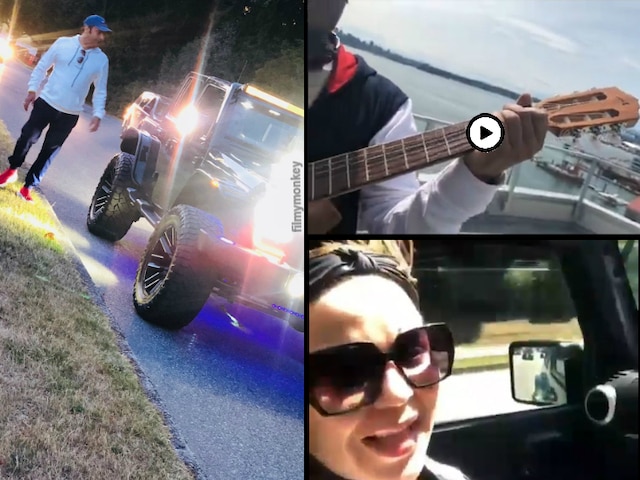 'The Kapil Sharma Show' host Kapil Sharma is set to be father soon as his pretty wife Ginni Chatrath is pregnant with their first child and the couple is celebrating their Babymoon currently in Canada. The comedy king shared their first glimpse a week ago from the British Columbia as the duo took a halt while driving, to give way to a bunch of geese crossing the road.
Ginni wrapped in a shawl was seen seated beside Kapil while he records a message in a video
for his fans. Kapil loved the traffic rules in the foreign country and wished it was the same back in India. And now after a week, Kapil is back with another treat for fans. Kapil indulges in some guitar playing in broad sun at Vancouver and his caption to the video reads -
"it's not tuned but still love it's tone ???? #guitar #music#musiclovers #vancouver#britishcolumbia ❤️". 
Ginni is however missing from the video but we bet the hubby is keeping her entertained.
Everyone knew he sings fabulously but did you guys know he knows how to play guitar? Well, we didn't either.
Check it out below: 


Kapil shared another picture few hours later in which he is seen walking on the road with a swanky car parked beside him. He writes
"#swag ???? #stanleypark #vancouver #canada ????".


There's another video from their long drive which is now making rounds on social media. And you do get to watch Ginni in this one. Kapil also asks wifey "How are you? You are enjoying?" and she goes "I'm good. Yes!!!".
Watch below: 



View this post on Instagram
Kapil had tied the knot with childhood sweetheart Ginni Chatrath in December 2018 and their first child is due in 5 months i.e. December, 2019. Kapil recently confirmed his wife's pregnancy finally breaking silence on the news of Ginni 
expecting their baby that broke in May.
"I just want to take care of my wife and be by her side for now. We are obviously very excited as it's our first kid but my mother is the most excited. She has been waiting for this moment for years now. We are just praying for Ginni and the baby's health,"
 Kapil told Mumbai Mirror in an interview.
Confirming Wife Ginni Chatrath's Pregnancy, Kapil Sharma Shares That His Mother Is The Most Excited About The Baby!


Adding further Kapil said when asked "how is he prepping up for his role of a father?", 
"There is no prep because we don't know if it would be a boy or girl. It's a happy time for the family and everybody is looking forward to welcome the new member". 
The two had left for Canada two weeks ago and Ginni flaunted her huge baby bump at the airport too.
PHOTOS: Kapil Sharma's Wife Ginni Chatrath FLAUNTS BABY BUMP & PREGNANCY GLOW At The Airport As The Couple Leave For Their Baby-moon!