TV actor & his minor brother BRUTALLY THRASHED by Ghaziabad police all night; Admitted to the ICU!
According to a reports, the TV actor and his minor brother were subjected to 3rd degree torture entire night.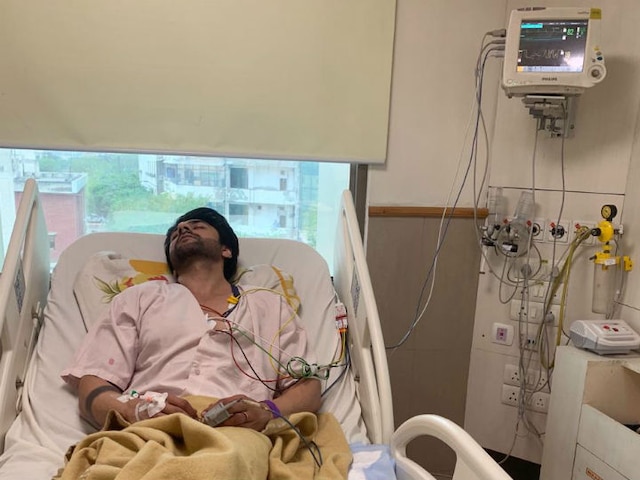 In a shocking turn of events, TV actor Aansh Arora, who was last seen in Ekta Kapoor's
Kasam Tere Pyaar Ki
, starring Ssharad Malhotra and Kritika Sengar in lead roles and a couple of web series, was thrashed brutally by Ghaziabad Police entire night on May 12.
The actor says, he had to pay big time for returning to apologise after a fight in a convenience store, a night before. According to a report in Mid-Day, both Aansh and his minor brother were subjected to 3rd degree torture entire night.
Aansh Arora(right) played the role of Samar in Kritika Sengar and Ssharad Malhotra starrer 'Kasam Tere Pyar Ki'


He was bashed up so badly that he was admitted to the ICU from May 13 to May 16 and is still in hospital in Delhi. The actor has now filed a written complaint to the National Human Rights Commission, Delhi and has produced pictures from hospital as well:


pic credit: ABP News


pic credit: ABP News


pic credit: ABP News


pic credit: ABP News


pic credit: ABP News

According to a report in Mid-day, "Arora's troubles began in a convenience store at Ghaziabad. On May 11 he ordered food there including a hotdog. When he asked for the bill, the staff allegedly told him everything was ready, but he would have to wait for the hotdog for at least an hour. He claimed he told them to cancel the order as he was getting late. But the staff allegedly did not respond properly."

Arora added, "They said how can we take money from you without giving you the food? I said that means you want me to wait here. I questioned why they were not canceling my order. And that is how the arguments started. We started abusing each other and I got angry and even banged my hand on the reception counter, breaking the glass. When I reached home I felt bad. I thought the staff lost money because of me. So I decided to visit them again, apologise, and pay them. But they handed me over me to the police."

Arora said the police arrested him under Section 151 of CrPc (Arrest to prevent the commission of cognizable offence). When his brother saw them and came to ask what had happened, they allegedly arrested him too. The police then allegedly took their mobile phones. Arora claimed that five to six policemen then beat them up at the Indirapuram police station. His constant requests to let them inform his family were allegedly ignored. They were then put inside the lock-up at around 3 am.


TV actor Aansh Arora with Mouni Roy

The next morning their parents arrived at the same police station as the brothers hadn't returned, and were allegedly misled by the police. Around 10.30 am that day, Arora claimed his brother was taken to a room behind the police station and brutally beaten again. "When my brother was brought back to the cell, he was unable to walk and was howling and screaming in pain. After that they dragged me from the cell to the same room and asked me to count till 40, and each time I reached 40, they hit me," Arora added.

He claimed the policemen continued to beat him mercilessly on his legs and feet with a bat.


Aansh Arora

Ansh also revealed that his parents were misled by the police and returned, having made all possible enquiries and finding that Arora and his brother who were at the Indirapuram police station. After begging for information and requesting the officers, it was revealed to them that Arora and his brother were in the lock-up and would be produced before a magistrate that day.

They were then produced in the evening court of S D M Ghaziabad, and granted bail. Later Arora and his brother were taken to a hospital by their parents.

The incident is indeed shocking! Stay tuned for further updates.