Kasautii Zindagii Kay 2: SHOCKING TWIST! Mr. Bajaj To Ditch Prerna After Marrying Her! His Evil Plans REVEALED!
An upcoming track involves Mr. Bajaj(Karan Singh Grover) & Prerna(Erica Fernandes) heading to Switzerland for their honeymoon where Anurag Basu(Parth Samthaan) follows them to take revenge who's in for a rude shock by Prerna but there's a happy news for AnuPre in the latest update.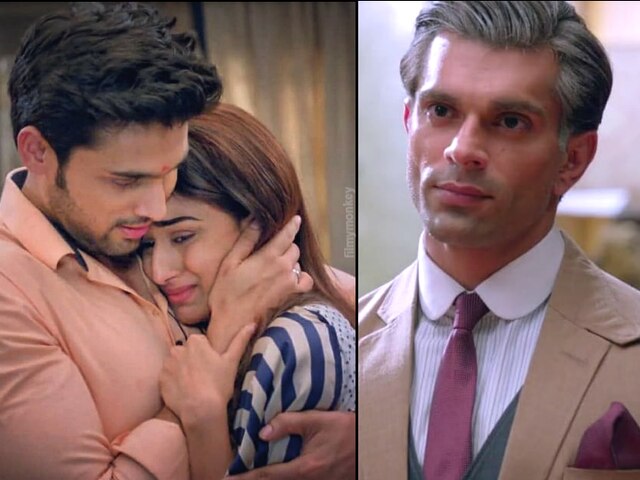 We just informed you about an upcoming track on the show
that's shot in Switzerland last week
and which involves the marriage of Prerna(played by Erica Fernandes) and Mr. Rishabh Bajaj(played by Karan Singh Grover), their honeymooon in Swiss Alps and Anurag Basu(Parth Samthaan) faking his death for family and going after the newlyweds to take revenge. Ever since there was news of Mr. Bajaj's entry in the reboot version of 'Kasautii Zindagii Kay 2', the AnuPre fans have been upset as they do not want to see their fav
jodi
 parting ways. In the original version, the marriage of Prerna-Mr. Bajaj sets a new track on the sow while it does not seem to be happening in the current version. A new report will make the fans very happy as Mr. Bajaj is set to ditch wife Prerna post their wedding.
Kasautii Zindagii Kay 2: Switzerland scene REVEALED; Anurag Basu follows Prerna-Mr. Bajaj for revenge on their Honeymoon after faking his death!
In the ongoing track on the show, Prerna has said yes to Mr. Bajaj's marriage offer to save Basu family from bankruptcy and freeing Anurag from jail as he was framed by Ronit who wanted to avenge his sister 'Komolika's(Hina Khan)death. Prerna finally proves in the court that Ronit is indeed alive and had falsely framer Anurag in his murder case. While the family celebrates acquittal of Anurag, Prerna goes to Mr. Bajaj and tells him she's ready to marry him but requests him to not invite either her or Anurag's family to the wedding.



View this post on Instagram
And next that's in store for audience is, Anurag fakes his death and while the family mourns the loss of their son, he instead follows Mr. Bajaj and Prerna on their Switzerland honeymoon to take revenge. Prerna-Anurag have a face off two with the latter grabbing the former by her neck in anger seeking answers for her behavior. Prerna fakes to be rude with him to further push him away from her. This we already told you.
The revelation about the upcoming track has already started to make fans impatient as they see the AnuPre
jodi
breaking but wait...
A new report claims that Prerna is in for a shock post her marriage with Mr. Bajaj who will ditch her.
While Prerna keeps her promise to marry him, he eventually will take a u-turn!
As per a report on Tellychakkar, Prerna will soon realise that Mr. Bajaj played a double game with her. The deal was to leave Anurag alone but Mr. Bajaj is determined to destroy him. Shattered Prerna accuses Mr. Bajaj of not sticking to his words when he laughs at her for trusting a businessman who can do anything for money.



View this post on Instagram
So does that mean there's a reunion between Anurag and Prerna lying ahead in the track?
How the events now unfold in the upcoming shows, will surely keep the KZK 2 fans glued to their TV screens!
Stay tuned to this page for all updates!



View this post on Instagram