Kawach Mahashivrati: Deepika Singh Gets Intimate With Namik Paul In a Romantic Scene In Rain! Video INSIDE!
Sandhya and husband Angad Jindal get romantic in monsoon rains in the upcoming sequence of 'Kavach Maha Shivratri'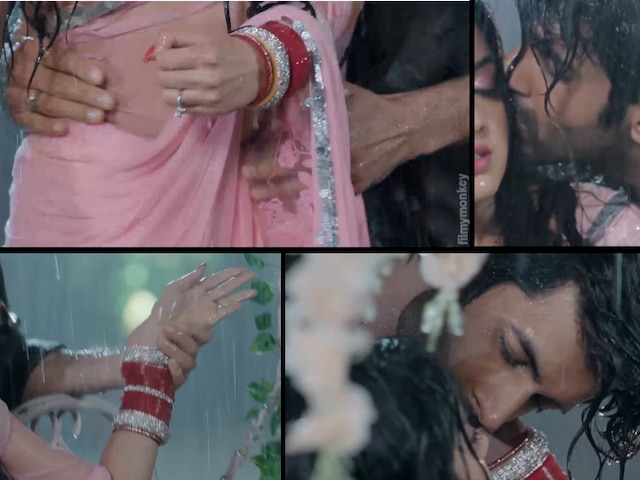 The popular 'Sandhya Rathi' of 'Diya Aur Baati Hum' is currently seen in an all different avatar of 'Sandhya Jindal' in recently launched supernatural Colors TV series 'Kavach... Maha Shivratri' that revolves around the lead characters of Sandhya, her former husband 'Kapil'(Vin Rana) and current husband 'Angad' (Namik Paul). Angad is possessed by Sandhya's former husband and evil spirit Kapil and the wife now has to shield her husband from this evil power. The show is hasn't managed to get good
Trp's at the Barc Rating list
but it keeps social media buzzing with the new twists and turns introduced in the story line. There's also a steamy scene in store for the 'Kawach Mahashivratri' fans. Deepika aka Sandhya and husband Angad aka Namik shot a scorching hot romantic scene in rain. Deepika in a pink saree and Namik in a green shirt and denims will leave you jaw dropped with their super hot sequence during the monsoon rain.
Dipika, who was away from TV for past two years after she gave birth to her first child, baby boy Soham with husband Rohit Raj Goyal, non-hesitatingly gets sensuous with her current co-star and the fans are drooling. Namik also kisses Deepika in the sequence. Not too often was Dipika seen romancing her former co-star Anas Rashid this intimately in her debut Star Plus show 'DABH'.
PIC & VIDEOS: Deepika Singh & hubby Rohit host birthday bash for baby boy Soham as he turns two!
The official handle of the channel shared the 3 minute long sequence on their social media pages, captioning it -
"Iss mausam mein hone lagi hai pyaar ki barsaat. Dekhiye Angad aur Sandhya ki badhti nazdeekiyan aaj raat 8 baje, #Kawachpar."
Watch video below: 


And here's how the fans are reacting to the video: 
Fans' reactions
Fans' reactions
Another video Colors shared from the upcoming track of the show, left fans shocked too when Sandhya gets possessed too and heads to kill Angad with a knife. Looks like, the couple has far more challenges to face in the coming episodes of the show.
Watch video below: