"Part Of Me Wants To Spend More Time With Her" -Late Vidya Sinha's 'Kullfi Kumarr Bajewala' Onscreen Son Mohit Malik On Her Death!
'Kullfi Kumarr Bajewala' lead actors Mohit Malik aka Sinkander and his onscreen daughter Kulfi aka Aakriti Sharma miss their "Bebe" and "Dadi", the late Bollywood actress Vidya Sinha who died on Thursday due to lung and heart disorders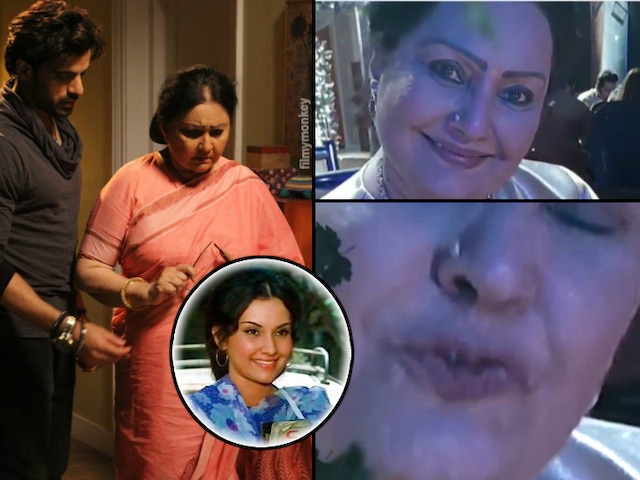 Veteran Bollywood actress Vidya Sinha passed away on Thursday, a week after the 72 yr old was hospitalized after she complained of breathlessness. 
The actress was on a ventilator support after she was rushed to a Mumbai hospital in a critical condition with aggravated heart and lung disorders
. Seen in films like 'Rajnigandha', 'Chhoti Si Baat', and 'Pati Patni Aur Woh', the actress also did TV shows and was last seen playing lead character Sikander's(played by Mohit Malik) mother 'Sushila Devi Gill' in Star Plus show 'Kullfi Kumarr Bajewala'. With the sudden death of Kulfi's(played Aakriti Sharma) onscreen
dadi, 
the star cast is shattered and everyone's mourning her Vidya Sinha's death on sets, reveals lead actor Mohit in an interview. Mohit had taken to Instagram on August 15th post Vidya's sad demise and had uploaded an adorable video of her's with a caption -
"Will miss you बेबे . RIP #vidhyasinha".
He posted another picture from the show with his onscreen mother Vidya today and wrote a long moving tribute for her.
It read:
"Vidya ji, where do I begin? I fall short of words in expressing my feelings as the world truly has lost a genuinely good and inspirational human being. You were one of the best souls I had ever met, the best human being,a tremendous actor and such a caring and humble person. I remember the first day we had met in workshops and I thought she must have an ego or aura around her but the minute we met, there was a connection. I remember thinking to myself, she's so humble and grounded despite having done the caliber of work that she has."
Mohit aka Sikander wrote further:
"For me you have been a huge inspiration! If I could describe you in one word, it would be LOVE! You knew how to love those around you be it human beings or animals. You went too soon and a part of me is yet to accept the reality. I'm left questioning whether everything is so temporary and I do wish we could have one more conversation together, just one more! I last met you four days ago and you said you wanted to get back to work....Through your love for work, we all are inspired. There never will be a person like you, though I shall aim to grasp all that I have learned from you! #VidyaSinha #Bebe"





View this post on Instagram
Not only Mohit but his onscreen daughter and the lead character 'Kulfi' aka little Aakriti is also missing her 
Dadi 
post latter's death. Aarkti also took to Instagram and posted a picture clicked with Vidya on the sets as she rests in the elderly actress' lap and writes in her message-
"

We will miss u dadi ...love u. #RIP 🙏#vidyasinha

".


Mohit also shares how the other cast members and crew are feeling Vidya's absence on the sets in an interview with Iwmbuzz.
"Many of my fabulously shot scenes in the show were with her. I am going to miss her. The whole set is going to miss her. Today also, all on the set are trying to get back to work and put up a happy face. But the fact remains that Vidyaji has left a void, a vacuum by going away. I pray that her family gains all the strength to bear with this loss. There cannot be another Bebe on the show; she is irreplaceable."
Mohit was very close to late Vidya Sinha and loved being taken care of by her.
He further tells the portal:
"It is a big loss. I still cannot believe that Vidyaji is not there anymore. A part of me wants to spend more time with her. She was certainly one of the best human beings I have ever met. I learnt so much from her, be it compassion or love for everyone. She was a saint for me. I used to tell my mom that she need not worry about me as I am taken care of by Vidyaji on the set. Not only me, she used to spread her warmth and love to everyone on the set of Kulfi Kumar Bajewala. She was full of love. She was an ego less soul. She was very close to me and I was very close to her."
Mohit Malik with his wife Aditi was also present at the last journey of Vidya Sinha along with the team of 'Kulfi Kumar Bajewala' including Anajali Anand and few other actors as they prayed for the parting soul at her funeral.
[
Swipe to view all pics below:
]


ALSO - Bollywood celebs share fond memories of Vidya Sinha
Mohit had also visited Vidya Sinha in hospital and was hoping she would return to work. He told TOI,
"Vidyaji had not been shooting with us for the last one month and when I visited her in the hospital a few days back, I was hoping that she would get better and come back to work. She also told me that she was missing work and was waiting to get back. I pray that her soul rests in peace. I can't believe that she is gone. This has happened too soon."
Apart from Bollywood films, Vidya Sinha also appeared in TV shows like 'Qubool Hai', 'Ishq Ka Rang Safed', 'Chandra Nandini', 'Kkavyanjali' including 'Kullfi Kumarr Bajewala'.
RIP Vidya Sinha!