'Maharana Pratap' actress Roshni Walia injured !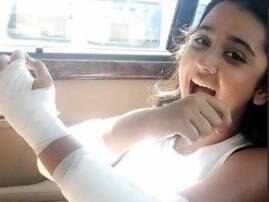 New Delhi:
Young TV sensation Roshni Walia who rose to fame with 'Maharana Pratap' recently got wounded while shooting for her upcoming movie.
The incident took place in Dehradun when Roshni tumbled down from a slope while riding a cycle. The actress got injured but she didn't give up and performed continuously.
When a leading tellywebsite Tellychakkar.com buzzed the actress about her injury she said, "I didn't realise there were potholes and missed one of them. The cycle skidded down the slope. Thankfully, I didn't get any major injury or fracture. Doctor has advised me to take rest for few days, to get healed completely. Luckily, my mom (Sweety Walia) was around, so she took good care of me."