Manasi Joshi makes COMEBACK on Star Plus after 10 years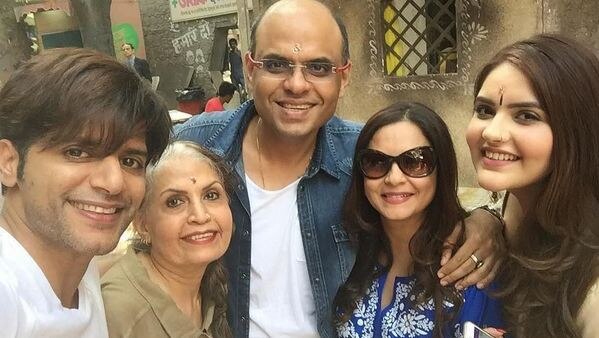 New Delhi: Popular TV actress Manasi Joshi Roy is back on TV with a Star Plus' most awaited show, Dhhai Kilo Prem. Actress is known for her roles in TV shows like 'Saaya', 'Kkusum' and 'Gharwali Uparwali'.
Manasi got married to popular actor Rohit Roy in year 1999 and was busy with her family for a very long time. She wanted to make a comeback earlier also but was spending time taking care of her daughter Kaira, now since her daughter is grown up she is ready to take the plunge.
In the show, Manasi will play the role of mother of lead actor Meherzan Mazda aka Piyush. While sharing a picture of shoot on her Instagram handle, she wrote "#dhhaikiloprem #starplus #allmychildren #reellife #shootingtime"
Check out few pictures from the shoot of 'Dhhai Kilo Prem':












According to a report in an entertainment portal, "After 1o years Mansi, at this stage of career, is not shying away from playing a mother to a grown up. She plays a housewife who happens to be an overweight Piyush's mother who is horizontally challenged. Dhai Kilo Prem has been shot in real locations of Agra and Delhi. It marks the debut of Anjali Anand and Meherzan Mazda as Deepika and Piyush who are two healthy couple and this is their love story."
MORE ABOUT MANASI
Manasi Joshi Roy the daughter of veteran theater actor, director & writer Arvind Joshi started her career in acting at the age of 16 with a Gujarati play directed by her father. She subsequently went on to act in two more Gujarati plays before she began modelling.
She has modelled in over hundred ad films for products like Hair & Care, Close Up, Ponds, Milkmaid, Surf, Kellogs etc. She then went on to be the 1st Indian face on Star Movies with the show Bol Bollywood ! She hosted several other shows like Entertainment Now on DD & Tara Rum Pum Pum on Star Plus.
Subsequently she went on to star in several television serials like Saaya, Viruddh, Gharwali Uparwali & Kkusum. Her most memorable role has been as Sudha from Saaya for which she won the Screen Award for Best Actress.
She also took part in the first season of the dance reality show Nach Baliye with her husband Rohit Roy. In 2007 they formed their production company called Magicworks & produced several non fiction shows as well as 9 short films for ZOOM.  Mansi acted in three of these films that they produced.They were the executive producers of three short films which were a part of Sanjay Gupta's movie Dus Kahaniyan.
And were the associate producers of the art house film Pankh. She is currently a full time mom to her 14 year old daughter Kiara & a part time blogger. Her blog is called This,That & the Other. Two of her blogs have been published by the DNA newspaper & she now writes blog's for The Quint as well.