'Naagin 3' NEW Promo: 'Shivangi' RETURNS to help 'Bela'.. But is that Mouni Roy OR Krishna Mukherjee disguised as 'Taamsi'?
A new 'Naagin 3' Promo is dropped and 'Shivangi' from Season 2 returns to help Bela(Surbhi Jyoti) but the girl introduced looks both like Mouni Roy and Krishna Mukherjee(who's entering as grown-up 'Taamsi' soon)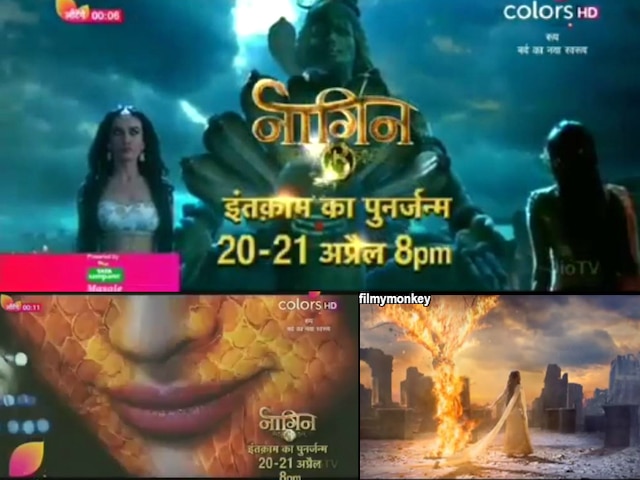 HIGHLIGHTS
'Naagin 3' fresh promo for 20th-21st April is sending fans in a tizzy
'Shivangi' from 'Naagin 2' returns but is that Mouni Roy or Krishna Mukherjee?
Krishna has already confirmed entering the show as grown-up 'Taamsi'(daughter of Hukum and Vish)
A fresh promo for the coming weekend 20th and 21st April episodes of 'Naagin 3' starring Surbhi Jyoti and Pearl V Puri in lead roles, has taken social media by storm and the reason is the new face introduced in it which looks like Mouni Roy aka 'Shivangi'. While Krishna Mukherjee's entry was confirmed on the show soon as Hukum(Nikitin Dheer) and Vishakha's(Anita Hassanandani) daughter 'Tamsee', now spotting Mouni in the promo is making fans very confused. Everyone's wondering if the original 'Naagin' who stepped into Bollywood post 'Naagin2', now returning in Season 3?
The promo with the tagline 'Inteqaam ka Punarjanm' is laced with visuals from the episode few weeks back when Sumitra(Rakshanda Khan) and her son Yuvi(Ankit Mohan) had pushed
Naagrani Bela
off a hill and post which she returns to avenge them. These are mixed with 'Naagin 2' trailer shots of Mouni Roy as 'Shivangi' dressed in gold. And the one glimpse we get of her face, also looks like 'Yeh Hai Mohabbatein's 'Alia' aka Krishna's.
Naagin 3- Krishna Mukherjee confirms she's playing grown up 'Tamsi' & fears getting hated for her negative character!


Krishna Mukherjee has an uncanny resemblance with Mouni Roy and she if often called a lookalike of the 'Gold' actress too. However she does not like it and has expressed her displeasure over the same in the past.

Promo begins with the voice of the narrator saying "Naagin ka inteqam lega punarjanam, Badle ki aag tabhi hogi poori, jab ateet aur aaj mei mit jayegi doori... Naagin aur uska ateeth aise karenge waar, ki inteqaam ki saari hadein hongi paar". 

Before we dwell further into this issue that's making fans crazy, watch the promo of 'Naagin 3' featuring either Mouni Roy or Krishna Mukherjee, below: 




View this post on Instagram



See that?

Who do you think you just saw?

Exactly! And that's how the Naagin fans are feeling right now. They are heavily circulating this promo on social media, making speculations over the actress seen in it.

The fans are also sharing various theories behind this promo. While many are strongly believing that it is certainly Mouni Roy, there are some wise ones countering it with logic that the actress has multiple movies in her kitty and shall not return to small screen now. We believe the same!

Mouni made her Bollywood debut with Akshay Kumar's 'Gold' last year post which she was seen opposite John Abraham in 'RAW - Romeo Akbar Walter'. And her upcoming movies are...'Brahmastra' starring Ranbir Kapoor and Alia Bhatt in lead roles, 'Made In China' with Rajkummar Rao and 'Bole Chudiyan' opposite Nawazuddin Siddiqui.


Mouni Roy in her latest Instagram post

On the other hand, the probability of this girl being Krishna is much higher since she has confirmed herself that she is entering the show, although in a negative role. She revealed she is playing grown-up 'Tamsee' and also hoped that audiences do not hate her for playing antagonist. Now the only possibility of Krishna featuring in this fresh promo is that 'Taamsi' is actually 'Shivaangi'. Whoa! Did we just crack it?

What about this theory... 'Shivangi' from Season 2 is reborn as 'Taamsi'.

On a related note, when Krishna was being compared with Mouni and was being referred to as "Mouni's look-alike", she had told HT back in 2016 - "Mouni is talented and beautiful, so sometimes the comparison feels good. But I feel bad when people call me her lookalike. I don't want to be called that. I'm okay when people say that we look similar, but not when they call me her lookalike". She also added - "As a newcomer, I want to make my own identity. I am part of a successful show, and I am being noticed for my performance. I am flattered to be compared to Mouni, but I don't want only this kind of attention. In fact, I feel that I look like her in photos and videos, but in reality, we don't look that similar".


Krishna Mukherjee in her latest Instagram post

The 'Yeh Hai Mohabbatein' actress also revealed then that even producer Ekta Kapoor noticed the similarity between her and Mouni after she watched one of Krishna's auditions. "I was told about this later. Even on the sets of my show, people tell me about this," she had further told HT.

Well, we guess the resemblance is aptly taken advantage of, if it turns out to be Krishna in this latest 'Naagin 3' promo!

Do write down in comments section who do you think is in the promo.

UPDATE - Naagin 3: Ekta Kapoor also shares NEW PROMO confirming when the Season Finale will go on-air; Teases Mouni Roy's entry but Fans BASH HER!