Naagin 3 TWIST: Mahir-Bela hug resulting in his death! But here's what happens next..!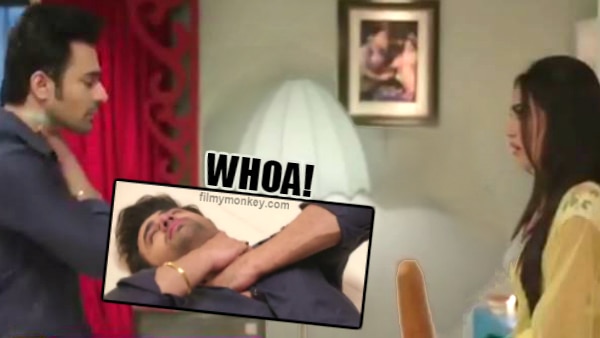 'Naagin 3' has yet again secured Top position at No. 1 on the charts as we just showed you in our
'BARC trp rating Week 31'
report today and the show that started exactly two months ago on June 2nd, never fails to keep it's audience at the edge of their seat. In the latest, after Bela (Surbhi Jyoti) who's also the
Naagrani,
was given the special and far greater powers by the Aghori Baba/Nag Guru in the latest episode while setting her on search for the stolen Nagmani, 'Naagin 3' track has become more interesting. The increased amount of poison inside Bela's body now, could kill anyone who touches her in the next few days. Well, it's going to be her husband Mahir Sehgal(Pearl V Puri)!
Yes, you are reading it correctly.

The show is revolving around Vish Khanna (Anita Hassanandani) and Bela's revenge journey to avenge the murder of 'Vikrant'(Rajat Tokas) who was killed in the first episode of the show by the Sehgal brothers, one of who was Mahir. Although Mahir wasn't involved in this murder but the original Ruhi (Karishma Tanna) saw him in her vision when her lover Vikrant was taking his last breath.

The show has since seen many shocking twists and turns and the nagmani theft is the latest to make it more interesting. We also told you that Sumitra Sehgal (Rakshanda Khan) who plays Maahir's mother and who's shown overtly-sweet-to-Bela is actually a witch and her daughter-in-law's biggest enemy[This HUGE TWIST in 'Naagin 3' will SHOCK you]. There has also been a buzz that Rajat Tokas will make a comeback on the show with a huge twist[Rajat aka Vikrant to return for Ruhi on full moon night!].

Coming back to what's next...

We saw how a gynecologist is arranged by Anu Mittal(Heli Daruwala) for Bela who falsely establishes that the latter is indeed pregnant. Bela succeeds in keeping the female doctor away from her as she's dangerous to anyone who touches her.

Now the upcoming track will show Bela becoming the cause of Mahir's death. Audience have been witnessing Bela's struggle with her feelings for Mahir who she's supposed to kill to avenge her 'true love' Vikrant's murder. Bela fulfilled Nag Raj's wishes in order to save the Nagmani and while doing so ahead in the show, Mahir-Bela will hug each other and he will be choked, falling on the floor, dead!

ALSO - 'Naagin 3' actor Pearl V Puri's ex-girlfriend Hiba Nawab dating Rohan Gandotra?

As per the report on Tellychakkar, worried Bela will instantly call Vish to tell she has killed Maahir.

But wait!

It is revealed that Maahir will infact be saved and will come back to life or one can say he never died. Remember how the Aghori Baba had also told her that the one who would survive her 'poisonous touch' would be her jeevansathi and sachcha humsafar. Bela will then realize Mahir is her true lover.

So does it mean that Mahir is also the Naag Raj? 

Watch the promo of Bela killing Mahir in the upcoming 'Naagin 3' track.. below:






Let's wait and watch how the story goes ahead.

Give your views to this twist in the comments section below and stay tuned for all the updates!