A Day After Giving Birth To Her Baby Girl, Mahhi Vij Trolled For Weight Gain! Actress Slams The "Idiots" Saying "My Priority Is Feeding My Baby"!
'Laagi Tujhse Lagan' actress Mahhi Vij welcomed her first child with husband Jay Bhanushali on Wednesday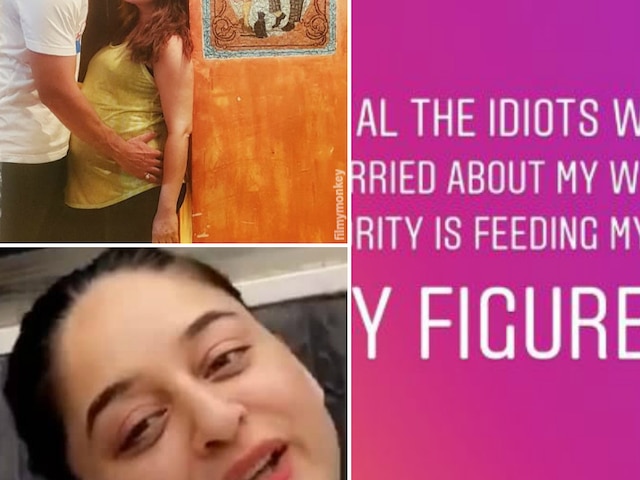 One of the most adorable TV couples, Jay Bhanushali and Mahhi Vij became parents to their first child, a baby girl, on Wednesday 21st August and with the arrival of their daughter they become a family of five since the two already have two adopted children Rajveer and Khushi. Jay, who's currently hosting Sony Tv's 'Superstar Singer'
had announced the beautiful news on social media
a day ago with an adorable picture of him kissing the munchkin's feet and an adorable message with it. Wife Mahhi also shared the same pic captioning it-
"Twinkle twinkle little star we made a wish and here you are.thank you for choosing us as your parents.we feel complete.We are blessed with baby girl [emojis] thank u god for everything this one is special thank you.We feel blessed.My best friend is here.Meri zindagi Badal di [folded hands emojis] I prayed for u my little angel thank u for coming n giving meaning to my life.so much to talk so much to give..".


And while the fans as well as celebrity friends from the industry have been showering the couple and the newborn with blessings sending heartiest congratulations their way, there are some spoilsports who are trolling Mahhi for her weight gain. Carrying a human being inside her body, a new mom-to-be during pregnancy gains loads of weight and even after giving birth, continues to carry the extra weight. Some fans conveniently forget this and have been showing 'concern' over Mahi's weight gain, ending up hurting her.
The first time mommy to their biological child, Mahhi, has slammed such people by posting a message on Instagram. Mahhi wrote in text in her Insta-story addressing them rightly as "idiots" -
"To all the idiots who are worried about my weight. My priority is feeding my baby nt my figure[folded hands emoji]".
Mahhi Vij's deleted Insta story she posted an hour ago slamming trolls who are showing concern over her weight gain post daughter's birth a day ago (Pic: Instagram)
While both Jay and Mahhi are on cloud nine with the arrival of their princess, it was heartbreaking to spot this one message among the thank you-notes they've been posting on social media. Mahhi however deleted this message an hour after she posted it.
Mahhi Vij's Insta-post she updated 3 days before giving birth to her baby girl (Pic: Instagram)
Welcoming his baby girl in their lives, the doting daddy had written along with the picture -
"The future just arrived,a brand new baby here to play.Ten little fingers ten little toes,mommy's eyes and daddy's nose.. Thank you princess for choosing us as your parents ITS A GIRL".


Jay-Mahhi's two other kids who they had adopted from their domestic help, are also excited over their little sister's arrival. Dad Jay shared their same video which Mahhi had posted on Wednesday in which the two are seen running with pink balloons in their hands and yelling adorably "it's a girl.. it's a girl". Jay wrote -
"My whole Family is going crazy...everyone is super excited but no comparison with the energy level of @iamkhushiray@rajveercutestar IT IS A GIRL!!! IT IS A GIRL !!! LOL".
Jay had said in a recent interview before his daughter arrived, that he wishes to have a baby girl,
"I have no preference as such and it is not that I won't like if a baby boy is born but I admire this bond and since I have had a father-son connect with my father, now when I have a child, I want a daughter so that I can experience this too". 
Mahhi in her latest Instagram post, thanked her mother for staying beside and helping her throughout her pregnancy phase, with a picture she posted of both her parents. Her caption reads -
"This journey wudnt have been possible without u two.from being my cook to my helper to managing with my temper.i love u mom.even in high bp u we're cooking for me without my complains.kept your health aside just to take care of me.thank u papa for managing without mom,I love u.u mean the world to me.god answered your prayers your little princess is here.rab rakha ????thank u @vij.sushma".


Jay and Mahhi tied the knot on November 11th, 2011 and the couple decided to have a child 8 years after their marriage. After the
couple announced their pregnancy in the month of May,
there were some infertility reports filed claiming they struggled to have a baby for these many years. Clearing the air over these reports,
Mahhi took to Instagram in July
and wrote -
"After so many messages on infertility!! I want to put this straight to all...that I was not going through any infertility issue !! It was my soul decision to wait and be a better child myself and do all my duties....I had my own share of responsibilities towards my parents...to have a child is beautiful...but to be a responsible child is much more...I choose the later.....be a good child to have one... enjoy cheers ????#daughterfirst #motherhood".


Not only Mahhi, there have been other female celebrities too who were trolled for their pregnancy weight gain and like a boss they dealt with the "idiots" each time. Bollywood actress seen in film like 'Race', Sameera Reddy, als slammed the ones who trolled her for flaunting baby bump. [
Video Inside: Pregnant Sameera Reddy reveals she want a boy or a girl! Also slams troll over flaunting her baby bump!
].