Perfect Pati: Jaya Prada makes TV debut with '& TV' show playing a 'saas'!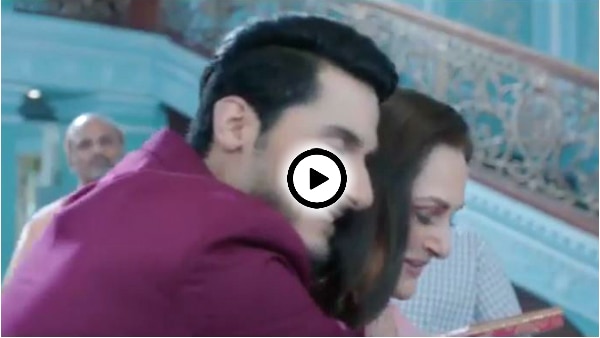 Veteran Bollywood actress turned politician Jaya Prada is making her debut on small screen with 'And tv' channel's upcoming show 'Perfect Pati'. Jaya will play the mother of the lead character of the show, Pushkar Rathod(Ayush Anand), and who's all set to welcome her
bahu
Vidhita Rathod(Sayali Sanjeev) into her house. 56 yr old beautiful actress will be seen playing a new age
saas
(mother-in-law) whose character 'Pramila Rathod' reportedly is expressive, confident and righteous modern woman. The first glimpse promo featuring Jaya Prada was shared by the actress herself too and she wrote along with it -
"My Debut on T.V #PerfectPati". 
The promo starts with a huge bungalow decorated ahead of a marriage function and when an attendant asks Jaya - "hukum! lagta hai ladki mil gayi?"..She responds with - "ladki mil gayi? laakhon mei ek aisi ladki dhoondhi hai jo mere bete ki perfect patni banegi!".

Another man(saree seller) says - "par kya apka beta bhi uska perfect pati ban payega? Hain!?" And she looks at him with wonderment. (while the male protagonist is seen walking down the stairs listening to this conversation).

The beta, played by Ayush, then comes forward and picks up the saree (that was lying on the table during preparations) and puts it over the seller's head saying in attitude - "perfect toh wo hai jo apni patni ko taraash ke perfect patni banaa sakey![and pushes the man away]". The son then goes and hugs his mom Jaya from behind.

As far as the promo goes, it is understood that the mother is set to combat her evil son while protecting her daughter-in-law.

Watch &TV's 'Perfect Pati' promo below: 






ALSO - Sridevi was her own competition, says Jayaprada

Channel's official handle wrote in description of the promo - "Kya ek perfect beta ban paayega perfect pati? Jaanne ke liye dekhiye #PerfectPati".

Talking about her role, Jaya told TOI - "Like all firsts, I'm sure it's going to be formidable, yet a special experience. The medium of television is immensely powerful and it's refreshing to know that such evolved and strong characters, and women-oriented stories are being written on this medium. Pramila will uniquely challenge and at the same time beautifully present the relationship of a mother with her son and daughter-in-law."

Seen in many popular films like  

Tohfa (1984), Sharaabi (1984), 'Sanjog' (1985) and 'Aakhree Raasta'(1986), 

Jaya says she has been choosy about her roles during her film career and now she's being careful about the same when it comes to Television.

The earlier two promos released by the makers gave a glimpse into the lead actor Sayali and actress Ayush's characters individually. The female lead is a high-spirited middle class Rajasthani girl 'Vidita Rajawat' seen biking in the village wearing a ghaghra-choli with other friends and who dreams of marrying a perfect guy. A perfect husband she looks forward to!

Sayali Sanjeev shared the promo on her Instagram and wrote - "The wait is over. Now everything is PERFECT..".

Ayush Anand on the other hand shared is promo and wrote - "Date is out. PERFECT PATI..".

In the promo it is established that Ayush's character is a double-faced man who speaks for women and their rights in public but believes otherwise in private.

Sayali is a marathi actress who's making her debut on hindi television. Aayush was seen in Star Plus popular show 'Ishqbaaaz' as 'ACP Ranveer Singh Randhawa'.

Watch Sayali and Ayush's 'Perfect Pati' promo below:








The show starting from 3rd September 2018 next month will air Mon to Fri at 9:30 pm on & Tv and we strongly recommend it.

What are your views on the show's first glimpses? Leave your reaction below in comments box and stay tuned for all updates.