SHOCKING! TV's teenage Star TROLLED after she posts HOT pics with her ADDRESS inviting Birthday wishes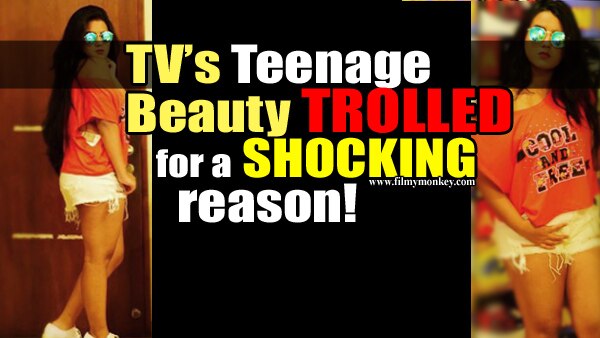 Soon to turn 15, 14 year old Roshni Walia, daughter of 'Yeh Hai Mohabbatein' actress Sweety Walia rose to fame with her role as 'Maharani Ajabde' in 'Bharat Ka Veer Putra – Maharana Pratap' opposite famous tv actor & teenage sensation Faisal Khan. Actress Roshni will turn 15 on September 20th but her excitement ahead of celebrations fetched her nasty and dirty comments from fans.
Roshni Walia as 'Ajabde' with other co actors from 'Maharana Pratap'
Roshni Walia in 'Yeh Wada Raha'
Roshni Walia with mother Sweety
Seen last in Zee TV's '
Yeh Vaada Raha'
in the lead role of 'Survi',
the beautiful Roshni had posted her pictures on Instagram clicked for a fashion brand recently.
Roshni Walia
Clad in white shorts and orange boat neck top in the picture, the stunning Roshni shared her excitement for her 15th birthday in a message with it too. She even revealed her address to the fans so they can send their birthday greetings there and not elsewhere.
Roshni's message read...
"Hey guys here is my address you can send me birthday#greetings over here no where else - ******* * *** ********* ****** ******** ANDHERI WEST 400053 MUMBAI ❤️❤️ can't wait #20september#21daysleft #yaya #loveyoumuah ❤️ and thanks for #150k #followers ????"
(We are deliberately not giving out her address that she mentioned in her Post)
Roshni Walia's Instagram post where she revealed her address
21 days before her birthday, the message was however did not go too well with many fans. Fans accused her of demanding gifts from her fans and they even posted cheap comments on her body, figure and outlook.
Roshni Walia trolled over her post revealing her address inviting birthday wishes
Fans lash out at Roshni accusing her of asking for gifts
While some posted nasty comments, the others defended Roshni Walia 
Roshni Walia
Roshni Walia
Roshni Walia with Divyanka Tripathi while visiting her mother Sweety on the sets of 'YHM'
Roshni Walia with Divyanka and Vivek on their Wedding Reception
Roshni is a famous face in the TV Industry and we wonder why would she give out such a personal detail like her home address to the fans but trolling her for asking for birthday gifts is just too silly! Fans must appreciate a celebrity who's all hearts and takes the huge risk of giving out her address!
We just hope though that it is not her home address!