Sunil Grover cries in reaction to Salman calling himself "incompetent" praising the comedian!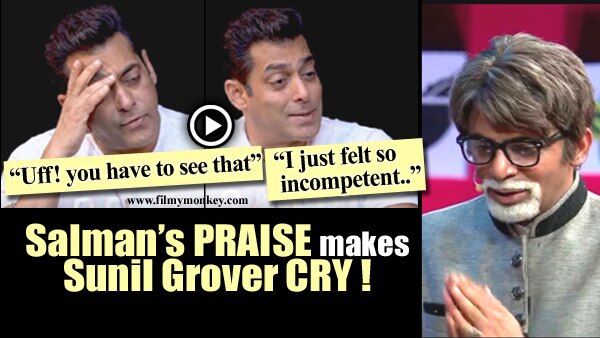 The 2 hour special show 'Supernight with Tubelight' with Salman Khan aired last Saturday right after 'The Kapil Sharma Show' and the star of the evening was comedian Sunil Grover playing host Amitabh Bachchan during 'KBCD' gag on the show.
Sunil entered in various avatars including Dr. Mashoor Gulati but his Big B mimicry floored audiences and the 
Superstar 
Salman Khan was smitten with his performance.
It was a laugh riot throughout with Salman and brother Sohail Khan appearing as guests and participating in the gags.[
Watch glimpses from the show at the bottom of this article!
]
Post shooting the episode, Salman during an interview praised the comedian non-stop for about two minutes when he was asked by the host Anupama Chopra, 
"You said to me in the last interview.. I don't want to be remembered as an actor who then became a star, who then became a character-actor, who retired and died.. there has to be larger than life goal, that's beyond the movies..at that point you didn't know what that was! Do you know what it is now?"
He answers "No" and while describing how he wants to do something big he goes on to say how one
"has to keep building level higher and higher and higher...like.."
and then he mentions Sunil.
Continues saying..
"like we went to this show the other day, Sunil.. Sunil Grover's show, and me and him [points towards Sohail] were sitting down there and we saw Sunil![takes a long pause] I felt so incompetent as an actor! Sooo incompetent as an actor that I was like shit! Look at these guys, look at their timing..look at how brilliant they are! and.. I'm like.. we're just lucked out dude! so i need to appreciate the fact and i need to keep on working harder. He has come in as that doctor(Mashoor Gulati)... He's not doing any comedy, he's just playing a character! Then after that he's coming as Mr. Bachchan! Uff! you have to see that. Oh My God! it was like.. we both thought we were sitting infront of Mr. Bachchan! And he's doing any comedy, he's not doing mimicry..he's straight OUT[stresses] playing it! How Mr. Bachchan is in real life, i mean he's got nuances that..you know.. not the filmy ones.. the real life ones! I have never seen anything like that. And i was looking at him... I just felt so incompetent that time...[long pause]..Everyone does hayin..saala..tum..! It's not that.. it is how he comes[folds hand in Big B's style] something else only yeah[smiles]!"
Watch below(24.25 - 26.11)
and read Sunil's reaction below that too..
It did come to Sunil's knowledge too and overwhelmed with Salman's praise, the comedian wrote on twitter -
"I think it's a dream. It's not real. Can't be.
I have tears rolling while I am dreaming. Jag ghumeya thare jaisa na koi @BeingSalmanKhan
"



I think it's a dream. It's not real. Can't be. ???? I have tears rolling while I am dreaming. Jag ghumeya thare jaisa na koi @BeingSalmanKhan ???? https://t.co/DFNS4vdkVL


— Sunil Grover (@WhoSunilGrover) June 15, 2017
The praise from a
Superstar 
is what Sunil needs right now.
Sunil's special show with Salman was initially to air at 12 pm on Sunday with repeat telecast at 9pm in the night but in the last minute change by Sony Channel, the show got preponed and was aired at 10.30 pm on Saturday instead. The sudden change was reportedly made taking in consideration the Champions Trophy final between India and Pakistan on Sunday.
Sunil was joined by Sugandha, Sanket Bhosle and Ali Asgar on the show.
Sunil parted ways with buddy Kapil Sharma after their unfortunate mid-air flight when the latter had allegedly threw a shoe at the former during an arguement 3 months ago flying back from their Australia tour.
Since then, there have been many speculations over Sunil's new show while apologetic Kapil keeps requesting him to come back on the show.
Sunil reportedly will now be seen on Krushna Abhishek's new show 'Comedy Company' but he will make only brief appearances on the show in different avatars.
The epic fall out between Kapil and Sunil cost the former his TRP's with Chandan Prabhakar, Ali Asgar & Sugandha Mishra also quitting TKSS in support of the latter but Kapil is gaining them back fast.
We wish Sunil Grover good luck for his full-fledged comeback on TV soon!
Are you waiting to see him back with his separate show? Let us know by posting your comments below!
Check out the video glimpses of 'Supernight with Tubelight' below