Tantra: Juhi Parmar-Manish Goel perform Mahayagya at Assi Ghat in Varanasi (PICS & VIDEO)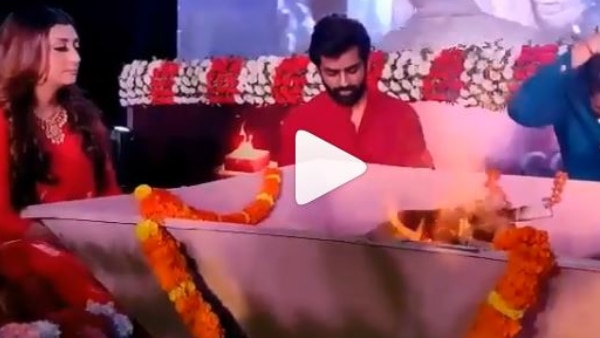 Suffering, failure, sorrow, discouragement are a part and parcel of our lives but what lies above all is the watchful eye of God and his powerful force that makes us feel safe. It is our faith in God and his divine power that gives us the strength to fight and ward off evil. The two upcoming supernatural dramas Vish Ya Amrit: Sitaraand Tantra will showcase the battle of good versus evil and how only good always triumphs. While Vish Ya Amrit: Sitara presents the recreation of the Vishakanya folklore that existed from the time of Chandragupta Maurya centuries ago, Tantra narrates a tale of a family who has fallen prey to the clutches of incantation.Actors Juhi Parmar (Sumati) and Manish Goel (Prithvi) from the show Tantra and Shakti Anand (King Shivdaan) from the show Vish Ya Amrit: Sitara conducted a Jan Kalyan Maha Yagya inVaranasi at Assi Ghat today to pray and seek blessings as they begin this new journey.
They were accompanied by a thousand of localities as they led the Maha Aarti ceremony to bring in positivity and drive away negative energies. At the 'Jan Kalyan Maha Yagya', eminent astrologers were present who also shed light on how this yagya will benefit the society at large - good health, knowledge , domestic peace and prosperity, and well-rounded success in life.
Speaking about their experience of witnessing the auspicious and holy experience, actor Juhi Parmar who essays the role of Sumati said, "Being a part of the Maha Yagya was a beautiful feeling! From the time the aarti started I got goosebumps because thousands of people chanting together in this scenic location was a visual treat. Plus, this is the best and auspicious way to begin this new journey."
(Source- Colors TV)
Actor Manish Goel aka Prithvi Khanna said, "This is my first show with COLORS and I am extremely grateful to them that it started off with a holy practice like the Maha Yagya at the Assi Ghat in Varanasi. I am playing a central character in the show Tantra, where my family falls prey to the much-debated practice of black magic.  We as a team prayed together today to ward off the negative energies not only from our lives but also the society at large."  
(Source- Colors TV)
Actor Shakti Anand said, "I am playing the role of king Ratan Pratap Singh of Vikralghad in Vish Ya Amrit- Sitaara and my character falls  prey to the vicious intentions of Vishkanyas. I hope performing this Maha Yagya helps me and my kingdom gets emancipation from the trap of the ferocious Vishkanyas. Also, hope it brings positivity in everybody's life."
Check out the video!



View this post on Instagram
 Tantra, produced by Swastik Productionsis a story of the Khanna family, who move into their dream home but become unfortunate victims of the gruesome practice of Tantra. The antagonist is the House itself whose eerie effects makes the place unlivable and a nightmare for its inhabitants.
Actor Sargun Kaur essays the female protagonist Niyati Khanna, while actor Gautam Vig plays her love interest, Akshat. The supernatural thriller marks the comeback of celebrated television actors Manish Goel and Juhi Parmar who will be seen as Prithvi and Sumati Khanna.
The concept of Vishkanya dates back centuries ago when Indian rulers trained girls to become assassins, first making them immune to poison and then – by slowly introducing poison into their systems – turning them venomous. Vish Ya Amrit – Sitaara traces the journey of Sitaara, who is oblivious to her own identity.
Abandoned in her infancy by her mother, she is brought up by her father Kuldip Shekavat who is a loyal palace manager to King Ratan Pratap Singh. Falling in love with the pretty Vrinda marks the beginning of Kuldip and the king's downfall.
The story takes a sharp turn when Sitaara embarks on a journey that forces her to choose between good and bad. Sitaara is a girl of high integrity is willing to stand by her convictions at all times, and against all people, even when it means standing up against people who might have cared for her.The shows stellar star cast including Adaa Khan playing the title role of Sitaara, Shilpa Saklani (Vrinda), Sandeep Baswana (Kuldip Shekavat) and Shakti Anand amongst others.