The Kapil Sharma Show NEW PROMO: Archana Puran Singh enters, comments on Sidhu's chair! Kapil welcomes her!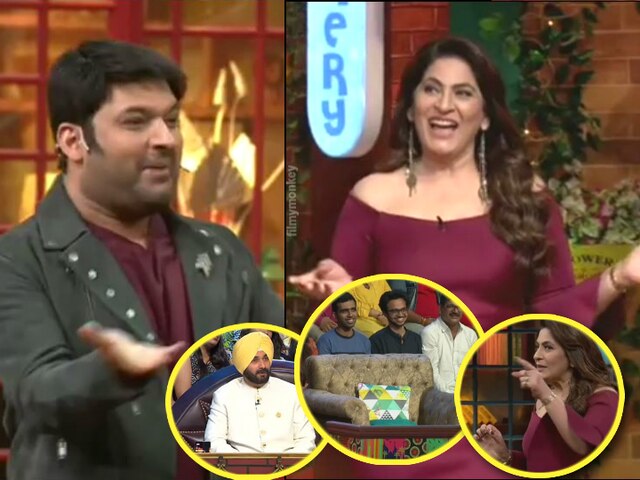 After the reports of Navjot Singh Sidhu's removal from 'The Kapil Sharma Show' post his insensitive comments on Pulwama attack that claimed the lives of 40 CRPF jawans, the makers have just dropped a fresh promo featuring Archana Puran Singh as the judge in his place. Although this episode was shot last week, days before the attack in Kashmir and Archana was filling Sidhu's chair temporarily in his brief absence, but it could now be the permanent scene on the show.
In the promo we see Archana entering the stage taking Kapil Sharma by surprise. He asks her what she was doing on the show and she responds with
"Arre! Tu yahan, Krushna yahan, Bharti yahan.. arre mujhe bhool gaye kameeno!?".
And then she points at Sidhu's seat(big leather chair) and says
"is kursi ke baare mei mai thoda bohot jaanti hun, ek aisi kursi main saalon tak pakde rakhi thi!".
Kapil says-
"Yeh to hai!! Ma'am we are so happy to have you. Aapka  bohot-bohot swagat hai.."
Archana had been a super judge for many years on 'Comedy Circus' for all the seasons which featured comedy acts performed by Kapil, Krushna Abhishek, Bharti Singh along with many other comedians in their initial years.
Kapil and the audience give her a big round of applause welcoming to TKSS as she proceeds towards Sidhu's judge-chair.


Punjab cabinet minister and former cricketer Navjot Singh Sidhu trended for past few days after his insensitive remarks on Pulwama Terror Attack and fans demanded his removal from 'The Kapil Sharma Show'. Sidhu had been a regular face on Kapil Sharma's show and he made a comeback with comedy king's return with season 2 of TKSS as the judge on the show in January.
Pulwama Attack: Fans want Navjot Singh Sidhu out of 'The Kapil Sharma Show"over his comments on the terror attack!
A day after the attack, talking to reporters in Chandigarh after the Punjab Assembly was adjourned, Sidhu commented -
"For a handful of people, can you blame the entire nation and can you blame an individual?"


Fans threatened to boycott 'The Kapil Sharma Show' and Sidhu along with Kapil Sharma trended on Friday and Saturday. Even after the reports of his removal came, seeing him in the weekend episode again, enraged the fans and they trended #UnsubscribeSonyTV demanding an official confirmation of Sidhu's ouster.
Archana Puran Singh in her reaction to replacing Sidhu on the show then, had said that she did shoot for the show in his place before the attack but she has no further information from the makers whether she will feature permanently as the judge.
Archana Puran Singh to REPLACE Navjot Singh Sidhu; Here's her REACTION!
Now this latest promo seem to indicate that the 'chair' no more belongs to Sidhu and the fans are already thanking Sony.