TV star Deepika Singh takes Delhi metro ride & goes street shopping in Janpath with face hidden!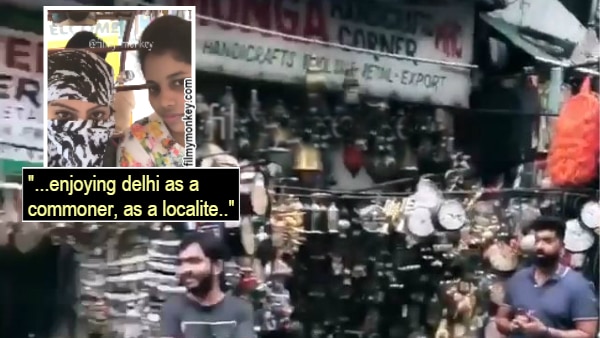 You may still spot some celeb faces going about in the city of Mumbai on public places but it's almost rare to see this happening elsewhere and the capital city is no exception. But the onscreen bold 'ACP Sandhya Rathi' Deepika Singh Goyal has just accomplished this task by travelling in Delhi Metro and shopping at the famous Janpath street market with her friend but yeah! with her face covered under a scarf. Belonging from Delhi itself, the Mommy of adorable 1 yr old son Soham, Deepika posted series of videos on her Instagram in which she documents her travel on Delhi roads..staring from an auto ride, then metro and then taking a stroll at Janpath with public around which couldn't recognize her.
While celebrities enjoy the name and fame, their urge to lead a common life alongside, is hard to achieve but we guess Deepika just nailed it. Deepika was back in her own city to attend an event and Filmy Monkey spots this first for you.

Thrilled to be able to do so, Deepika hashtagged her Insta-story "#streetshopping #janpath #delhi". 

In the three video series she posted, the first one has her with her face covered under a black and white scarf, sitting inside the auto rickshaw and talking to fans -- "Hey guys! After a long time, I am enjoying delhi as a commoner, as a localite and we are heading towards metro stataion. today is aarushi's(the girl accompanying her) birthday.. So we are enjoying and i am going to metro station"

The second video after this is a very short Tilak nagar metro station glimpse while she's waiting at the platform for the metro to arrive and then it does.

The third one is when Deepika is walking in the middle of Janpath and captured the ambience around her.

Watch the compiled video from all three spots on our Instagram handle @filmy_monkey.. BELOW!






The TV star was back in every-Delhi-girl's-favorite, Janpath, and her excitement is evident in the video.

ALSO - Deepika Singh Goyal of 'Diya Aur Baati Hum' trolled for applying lipstick to her little niece!

Despite away from the small screen for a while, Deepika keeps making it to headlines and the latest is the buzz surrounding her particaption in 'Bigg Boss 12'. We just told you that the tv actress has been approached for the upcoming Season 11 of the biggest reality show hosted by Salman Khan too. Deepika also celebrated her son Soham's first birthday 2 months ago with husband Rohit Raj Goyal.






Coming back to her incognito Delhi travel and other celebrities who've done this in the past..

We recently saw Anupam Kher pulling the same 'stunt' during his first Mumbai metro ride that he took to avoid road traffic at Saki Naka and the veteran actor even recorded a video interacting with commuters. Yes! he wasn't covering his face and the video is heart warming.

Watch below: 






In the past too, like Deepika, popular film star Tiger Shroff along with his sister Krishna Shroff took Mumbai local ride to avoid traffic in March 2017. The brother-sister duo took Mumbai local train from Vasai to Bandra[Pics/Video]. Returning then from 'Munna Michael' shoot, Tiger was even recognized by a little boy who came upto him and asked: "Aap Tiger ho na?" Given that it was early in the evening, the compartment was less crowded. The kid got his fanboy moment reported a daily.


Tiger and Krishna however had their faces covered and they travelled by train riding in a loaded coach filled with people around them to avoid traffic on their way home back from 'Munna Michael' shoot. They went unrecognized!

Usually when celebrities travel by public transport, it is for a promotional event, but seeing them fighting the restraint is sweet. Although they should keep their security in mind too when making such attempts.

What do you say about Deepika and other celebs opting for public transports, whether or not with their identities hidden?

Leave your views in comments section below and stay tuned to Filmy Monkey for all updates!