VIDEO: Look what Arshi Khan just did that left The Great Khali embarrassed!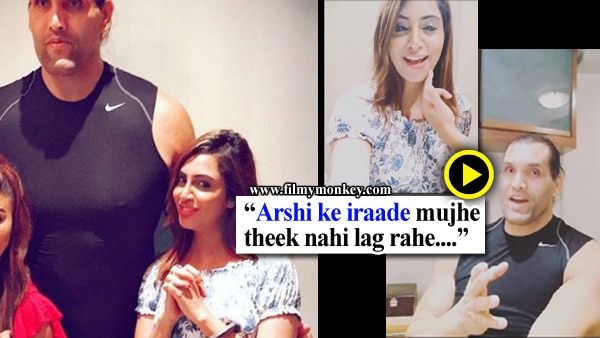 Arshi Khan, the 'awaam ki jaan' from 'Bigg Boss 11' has been constantly staying in news with her antics, public appearances, various events and most recently for her recent friendship with Rakhi Sawant. Rakhi and Arshi were with the Great Khali yesterday who himself has been part of Bigg Boss season 8 and was even the runner up in the finale.
The two girls put Khali in an embarrassing situation while recording a video with him to promote their event to be held in Mandi this month.






Bigg Boss 11 fame Arshi Khan FINALLY clarifies her tweet on Shahid Afridi

Arshi in her usual style first teased the event and then introducing her Instagram followers to Khali, she also urged the internationally renowned wrestler to say "Arshi kapde phaadegi" in her favor. She then turns the camera towards Khali and originally named Dalip Singh Rana, starts to talk first about their event. Arshi interferes "ab boliye.. arshi kapde phaadegi aur awaam dekhegi!".

Khali smiled adorably and did repeat the line she had been prompting him to say but with hesitation and then he also ended it with "mujhe Arshi ke iraade theek nahi lag rahe".



Arshi:

So guys.. mai jahan pe baitthi hun wahan pe baithna mumkin hi nahi.. lekin phir bhi mai baitthi hun Mr. Khali ke saamne.. ab mai bade dil se guzarish karti hun ki wo mera ek dialogue bolen.. aur unko bolna padega wo.. ki Arshi Khan apne kapde phadegi!



Khali:

Hello doston! Satsriakaal.. namaskaar.. hum baithe hain yahan.. aur 29 june ko Mandi mei aur 7 July ko Surat mei.. jaisa lag raha ki inke jo iraade hain wo saaf saaf lag rahe hain ki ye kapde phadeni. [Arshi: bas bas ab bol deejiye ki..] Arshi Khan bilkjul kapde phadengi![Arshi rejoices by clapping] Bol rahi hain ki agar zaroorat padegi toh mai sabke phadungi.. Aur unko jo iraade hain thode mujhko theek nahi lag rahe hain.. bol rahi hai ki jo wrestler hain unko utha ke mai le jaungi...!"

Here's the backgrounder to this doalogue: Arshi had torn her dress inside house in initial weeks to stay sexy and Hina had commented at her later saying "baahar kapde phaad kar kaam milega isey!?". To this Arshi reacted yelling "Arshi Khan apne kapde phadegi!" ...and repeated it time to time too!

Now see how Arshi makes Khali say the same dialogue in her support. Watch the really cute video below: