TV Actor Raj Singh Arora TROLLED For Drinking With Karan Kundrra, Abigail Pande & Others On Janmashtami, Hits Back At Them!
The popular 'Mihir Arora' of 'Yeh Hai Mohabbatein' wished fans on Janmashtami with a picture from a bash he had with friends and which had beer cans & alcohol bottles present in it too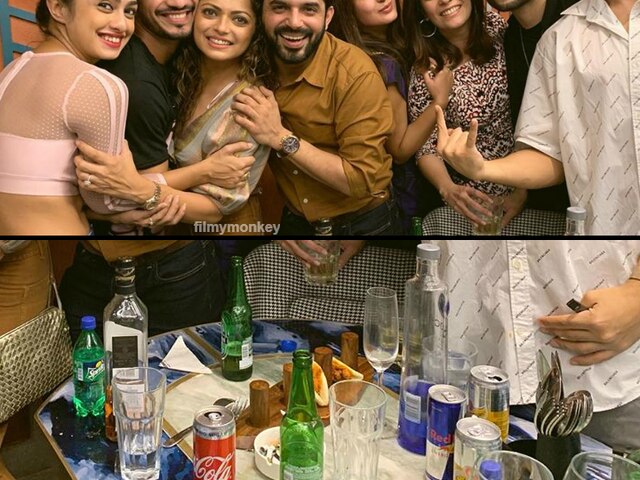 Popular TV actor who was last seen in a pivotal role of 'Mihir Arora', the brother of main lead 'Raman Bhalla' (originally played by Karan Patel) in Star Plus' popular show 'Yeh Hai Mohabbatein', got trolled badly for his Janmashashtami post this weekend. Raj, who's also a photographer and traveler, posted a picture from the bash he had with his actor-friends Karan Kundra, Abigail Pande, Drashti Dhami, Kritika Kamra, girlfriend Pooja Gor and Rahul Sharma during Janmashtami but was trolled right after. In the picture, the gang of friends happily pose for camera while beer cans, alcohol bottles and empty glasses can be seen lying at the table placed in front of them. Raj wrote in caption-
"When two Libran brothers @kkundrra & Me meet after aaaaaaagesssss it becomes a long epic #Mumbai night ! Happy Krishna Love & Consciousness to all today, #Krishna surely was a #Libran no doubt about it in my Mind !".
He did not wish the fans "Happy Janmashtami" but did mention Lord Krishna in his message along with the picture and the fans objected to their drinking on this occasion.


ALSO -
Sapna Thakur To Enter As New 'Raman Bhalla' Chaitanya Choudhary's Wife in Yeh Hai Mohabbatein!
A fan going by the Instagram handle name Dipti, took to the comments section and wrote -
"Pic is good but having drinks to celebrate krishna love & consciousness.. is it real krishna consciousness?".
To which Raj replied with-
"He ushered n the kalyug with the biggest war ever...& u care about a drink damn....!"
Raj Singh Arora hits back at trolls after they objected to him drinking on Janmashtami
Dipti writes back-
"if u care abt the biggest war by him then u how cud u celebrate krishna love n consciousness"
Raj replies to her yet again-
"Arre ammaji u do your prayer ur way i will do in my way in the wise words of the Lord 'all roads lead to God'...My way or your way. Shraddha is there in heart that's what matters.. now ahhhh ok."
Raj Singh Arora hits back at trolls after they objected to him drinking on Janmashtami
Another fan by handle name 'Manmarziyaa' wrote to him-
"So what it is kalyug and 21st century..but that doesn't mean you have the freedom to drink... On janmashtami people keep fast for whole day ...and you are drinking and dragging Lord Krishna...you know how pure this festival is? And you are giving silly reason for drinking. You and your whole gang lost one follower."
Raj simply replied to the 2nd user-
"Have a drink & calm down".
Raj Singh Arora hits back at trolls after they objected to him drinking on Janmashtami
'Manmarziyaa' writes again-
"You are having drinks on the occasion of Janmashtami... Really? Even if it is kalyug and 21st century.. Atleast you can have the self control to not to drink...seriously?"
Raj's reply reads-
"agree calm down aunty... Have a glass of water.. Why is what he do upsetting your tapasya so much".
Raj Singh Arora hits back at trolls after they objected to him drinking on Janmashtami
Another thing that's drawing the attention of the fans in this picture is the presence of ex-couple Karan and Kratika, 'Kitani Mohabbat Hai' co-stars, in one frame. While Karan Kundrra has been dating Anushka Dandekar for few years now Kritika has dated a publicist Siddharth Bijpuria after break up with Karan. She started
dating Uday Shankar Gauri post that
and was also in headlines last year over reports claiming she
got engaged to her boyfriend Uday Shankar Gauri,
which the couple denied.
Raj Singh Arora who had quit 'YHM' in 2016, 3 years after it's launch, has been active in the industry since 2004 when he debuted on small screen with Star One popular show 'Remix' in which he played 'Yuvi'. He appeared on few more TV shows since, including 'Kahaani Ghar Ghar Kii' and 'Yeh Hai Mohabbatein'. He also appeared in some Bollywood  films like 'Teri Meri Kahaani' and 'Gabbar Is Back'.
ALSO -
"How can Patel leave the show!?" -Raj Singh Arora shocked to know Chaitanya Choudhary is the new 'Raman Bhalla' in Yeh Hai Mohabbatein!
Raj has been dating 'Pratigya' actress Pooja Gor, who's also seen in the picture above, for 8 years now. The two had met each other on the sets of a horror series 'Koi Aane Ko Hai'.