Different types of Holi celebration in India
As Holi is just around the corner, let's take a look at how people all over India celebrates the festival of colours.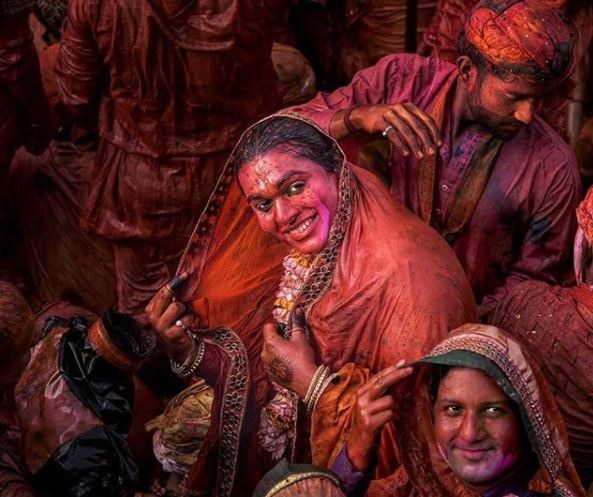 It is that time of the year when people are surrounded by vibrant colours and happiness. Holi is the most vibrant festival India celebrates in a year. The festival that marks the onset of spring after the tricky winters also signifies the victory of good over evil.
As Holi is just around the corner, let's take a look at how people all over India celebrates the festival of colours.
1. Barsana: Lath mar Holi
Remember that beautiful sequence shot in the song '
Gori tu latth maar
'? The song captures the essence of 'Lathmar Holi' that is celebrated every year by the people of Barsana and Nandgaon villages near Mathura in Uttar Pradesh. The celebration of 'Lathmar Holi' starts a week before from holi in Barsana. Keeping in sync with the story when Lord Krishna was chased away by the women of Barsana village when he came to see Radha, the ladies of this village till date hurl sticks at the men, keeping the spirit of Holi alive.


2. Shantiniketan, West Bengal: Basanta Utsav
Basanta Utsav is the soul of Shantiniketan. Keeping true to the spirit of Spring, the color yellow dominates the festival. Initially started by Rabindranath Tagore, Basanta Utsav is a powerful depiction of the cultural heritage of Bengal. Women attend the festival in yellow saree, creating a unique energy to blend bright colors of the festival carefully nurturing the spirit of Basanta Utsav.


3. Anandpur Sahib, Punjab: Warrior Holi
Warrior Holi in Punjab is also known as 'Hola Mohalla'. Marking the beginning of the Sikh New Year, Hola Mohalla is celebrated by Sikhs all around the world. It was initiated by Sikh Guru Gobind Singh to celebrate Holi. However, rather than tossing colors, you will see an exhibition of physical agility. There's wrestling, arts, mock sword fights, acrobatic military exercises, and turban tying.




4. Udaipur: Holika Dahan
In Udaipur, the festival of Holi spells class and imperiality. From Holika Dahan, fireworks to spraying colours, all rituals and celebration take place. Holika Dahan marks the beginning of Holi celebration in India. It takes place in City Palace in Udaipur. The royal family of the Mewar dynasty is keeping their annual tradition alive till date.


5. Karnataka: Hampi
Holi is fundamentally celebrated in North India. South India is famous for celebrations of Onam, Pongal but not Holi. However, there is an exemption, Hampi in Karnataka. Holi is celebrated very enthusiastically in this town. Playing drums, dancing and playing with colours are all customary celebrations.