Funny! Hardik Patel Tags Actress Mamta Mohandas In A tweet Advicing Rahul, Gets Trolled
Netizens got the golden opportunity to troll the Patidar leader Hardik Patel.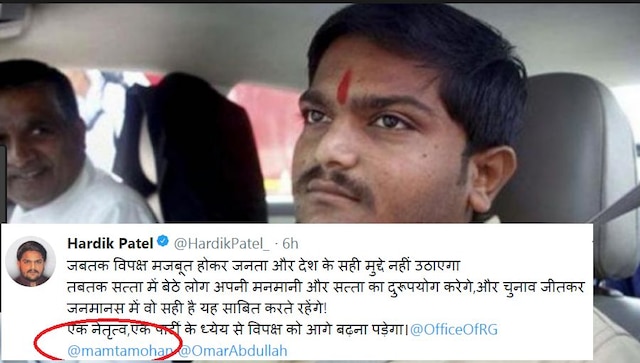 New Delhi:
On Saturday, soon after the declaration of results for Tripura, Nagaland and Meghalaya, Patidar leader Hardik Patel put up a post on social media in which he advised Rahul Gandhi to bring all the opposition parties under a single umbrella. Hardik tagged the post to Rahul Gandhi, Omar Abdullah and actress Mamta Mohandas, but wait! why he tagged the post to actress Mamta?



जबतक विपक्ष मजबूत होकर जनता और देश के सही मुद्दे नहीं उठाएगा
तबतक सत्ता में बेठे लोग अपनी मनमानी और सत्ता का दुरूपयोग करेगे,और चुनाव जीतकर जनमानस में वो सही है यह साबित करते रहेंगे!
एक नेतृत्व,एक पार्टी के ध्येय से विपक्ष को आगे बढ़ना पड़ेगा।@OfficeOfRG @mamtamohan @OmarAbdullah


— Hardik Patel (@HardikPatel_) March 3, 2018
No doubt it was by mistake but this gave social media users a golden opportunity to troll the Patidar leader.
Well, a probable reason behind this is expected that Hardik wanted to tag the post to West Bengal Chief Minister Mamata Banerjee but by mistake, he tagged it to the actress.
"When Mamata Mohan @mamtamohan became the leader of the opposition party of India????", asked a Twitter user. Here are some more Tweets

ये ममता मोहन @mamtamohan कब से भारत के विपक्षी पार्टी की नेता हो गयी ????

या फिर राशनकार्ड बनाने का नया इंतज़ाम शुरू कर दिया है ????

— युवा शक्ति™ (@YuvaShakti_) March 3, 2018




अरे भाई गलत टेग कर लिए हो तुम... @MamataOfficial की जगह @mamtamohan को टेग कर दिया है!


— Dhruv Pandit♔ (@ithepandit) March 3, 2018
Who is Mamta Mohandas:
Mamta Mohandas is an actress and a singer, she has worked for many Malayalam and Telugu films. In 2006 she grabbed the Filmfare award for best playback singer in Malayalam films.
Northeast election results:
The BJP along with its alliance partners has overthrown CPI-M-led Left Front from Tripura. On the other hand in Nagaland, the saffron party has faced a tough fight with Naga Peoples Front (NPF). BJP has secured 27 seats while NPF could grab 22 seats. In Meghalaya Congress gained 21 seats while BJP concluded with 2 seats.