Maharashtra creates massive rangoli to pay tribute to Chhatrapati Shivaji Maharaj
The artists from Maharashtra's Latur district have paid their tribute to the great warrior with a massive rangoli which created a world record.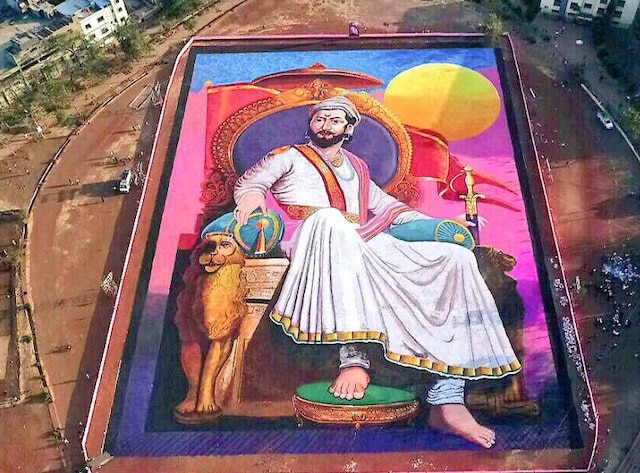 Maharashtra: On Monday country is celebrating the 388th birth anniversary of Maratha ruler Chhatrapati Shivaji Maharaj. His life of fearlessness has always been a source of an inspiration to the youth of the nation.
The Jayanti is celebrated with much enthusiasm in Maharastra. The artists from state's Latur district have paid their tribute to the great warrior in their own unique style.



Laturkar paying tributes to Lord Shivaji Maharaj by setting World Record. Giant Rangoli of 1 Lakh SqFt is unveiled for public on the eve of Shivjayanti! Congratulations #Latur pic.twitter.com/jH2JGBwoO7


— Pravin R Shivangikar (@REACHPRAVIN) February 17, 2018
They have created a world record with a massive rangoli of Chhatrapati Shivaji Maharaj.
The immense rangoli covered area of more than 11,18,743 sq ft area. Nearly 50 thousand kg rangoli powder has been used in making the beautiful rangoli.
The entire work of rangoli was done in more than two days thereby creating a world record.
 Netizens lost no time in expressing their love for the lovely rangoli.



50,000 kg Rangoli
78 Rangoli artists
4 Days of effort
11,18,743 Sq feet (world's largest) Rangoli portrait


Unfathomable reverence to Chhatrapati Shivaji Maharaj. ????#ShivajiJayanti pic.twitter.com/YdDcwXrPyt

— Onkar Pandey (@iOnkarPandey) February 19, 2018



World's biggest Rangoli of Chattrapati Shivaji Maharaj created in Latur,Maharashtra by Mangesh Nipanikar,Tejesh Sherkhane,Dinesh lokhande & 50 others in just 72 hours. 50000 kg Rangoli used.. Total area is 2.5 acres. #Shivjayanti #ShivajiMaharaj #शिवजयंती #प्रभोशिवाजीराजा pic.twitter.com/ucBl0mSLPA


— Vinayak Pujari (@vinayakpujari42) February 19, 2018



The world record Rangoli of Chatrapati Shivaji Maharaj in latur Maharashtra 70 people ,72 hours worked, 50,000 kg Rangoli. 10000 sq feet area pic.twitter.com/6CiOkUqqvc


— Pramod S S (@PramodSS7) February 18, 2018



Chhatrapati Shivaji Maharaj Portrait made up from Rangoli on abt 9388sqft. area#ShivajiMaharaj Jayanti@BaliramWatane #Jawaharvidyalayajintur pic.twitter.com/KyjP2FM3TI


— MaHeShWaR???? (@MWendole) February 18, 2018