These 3 Amazing Ladies Have Won Our Superwomen Contest! Read Their Inspiring Stories
Let's meet these lovely ladies and get inspired!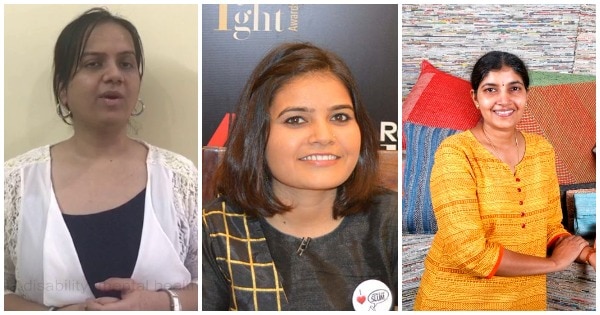 New Delhi:
Celebrating the spirit of a woman, ABP News had invited women across India to send in their motivational stories to win 'Superwoman of India' award.



All you superwomen send us your inspiring stories. Contest Details below! pic.twitter.com/7xEwKBWOm6


— ABP News (@abpnewstv) March 1, 2018
A panel of judges from different fields, namely Ragini Khanna, Bharti Taneja, Anita Nayyar, Smita Pandey Mishra, Nehal Modi were given the arduous task to select three most inspiring stories among the lot. And now, we finally have 3 winners, so let's meet these lovely ladies and get inspired:
Chandni- Noida
From a street performer and a rag picker to giving a speech on Ted Talks, to being awarded by Karamveer Purashkar, Reebok Fit to Fight, by Kangna Ranaut, We The Women, by Barkha Dutt, she's come a long way.
Chandni has been working since the age of 5 yrs, performing street magic but as fate would have it, her father expired. Left with no option, Chandni sold roses under street lights, sold corn, often working till midnight, and constantly fought against her fate every step of the way.  During this period she was spotted by an NGO which was working for the education of street children and then transformation began. From being a leader at the district level to directly impacting the life of 10,000 kids, she dedicated her life to them. Today she leads an NGOs, Voice of  Slum, which is the first organisation for the slum kids and by the slum kids.
Neerja Palisetty – Jaipur 
Neerja Palisetty is the founder of Sutrakaar Creations which was established about 1.5 years ago, to encourage experimental handloom weaving.
Here's what she says in her entry:
''The idea is to juxtapose crafts with post-consumer waste so that we promote fair trade, craft empowerment, zero-waste and ethical fashion. Our USP is hand spinning and weaving of paper and create products from these hand woven paper fabrics. Today paper waste contributes to being one of the third largest pollutants on Earth and our aim is to use as much of this waste and transform them into beautiful products. We try to follow the 4 R's in our designs, reduce, reuse, recycle and respect. This is our contribution to saving the earth for future generations. This Studio has been a long term dream becoming a reality and I thank GOD in helping me realize it. My journey in this life began by being born in a family of weavers from Ponduru, a village in Andhra Pradesh. The strong family roots with a legacy and tradition of 400 years of weaving have played a vital role in shaping me into the person I am today.
The earliest memories are watching my grandmother magically transform cotton pods into a yarn on the Charkha. My father, a textile design graduate from the first batch of NID, Ahmedabad, has played a major part in teaching me everything I know today. The seeds of setting up my own weaving studio, were sown in my mind at the time I graduated, which is almost 25 years now. However life had its own plans and over the next 17 years, I worked as a merchandiser at Tirupur in Tamil Nadu and as a design professor in Coimbatore and later Jaipur. I pursued Diploma in higher education from Nottingham Trent University and through online courses. But there was always this desire to set up my own weaving studio. My experience in the Fashion Industry and Education Sector has given me the confidence to focus on my dream and here I am today.  I have learnt that if you work hard with passion, a positive attitude and complete faith in the supreme, success will follow.''



On Women's Day, ABP News is awarding top three SUPERWOMEN of India https://t.co/YDwaeYU3eL


— ABP News (@abpnewstv) March 8, 2018
Nidhi Goyal – Mumbai
 Nidhi is disability rights and gender justice activist who has worked with a range of national as well as international organizations. She is visually impaired and is now running her own organisation called The Rising Flame.



On Women's Day, ABP News is awarding top three SUPERWOMEN of India https://t.co/mTmvFbtnke


— ABP News (@abpnewstv) March 8, 2018