Nerd Alert! This Harvard Maths Graduate Correctly Predicted 20 Oscars Winners
Here is how he was able to crack the code of 90th Academy Awards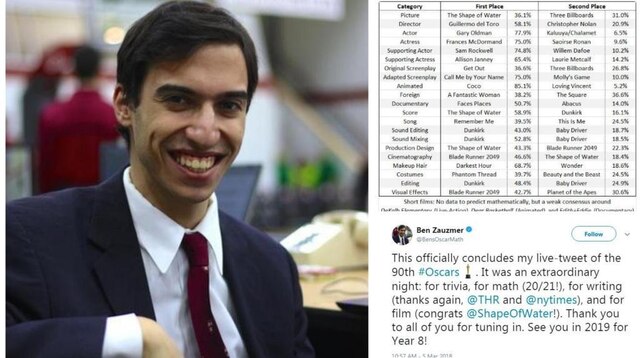 NEW DELHI:
On Monday, while the world went frenzy over the 90th Academy Awards start to celebrate the best talent and films of the year at the Dolby Theatre in Hollywood, this 25-year-old graduate from Harvard with a degree in applied math in 2015 successfully predicted the winners of the biggest Oscars categories.


Ben Zauzmer works as a sabermetrician for the Los Angeles Dodgers and his 20 predictions about the Oscars were correct.




Last chance to fill out those #Oscars pools! Here are the top two most likely winners in each category, according to my mathematical model published in @THR. pic.twitter.com/CuF9oKun6I


— Ben Zauzmer (@BensOscarMath) March 5, 2018



As per reports, Zauzmer used his complex mathematical model to calculate a nominee's percentage chance of winning. He has been doing this for the past seven years and this time, Zauzmer made predictions for 21 of the 24 Oscars categories in total as there was not enough data available to predict the three short film categories mathematically.

The reason the denominator is 21 and not 24 is that there's not enough data to predict the three short film categories mathematically.

— Ben Zauzmer (@BensOscarMath) March 5, 2018

After his successful predictions, he wrote -

This officially concludes my live-tweet of the 90th #Oscars. It was an extraordinary night: for trivia, for math (20/21!), for writing (thanks again, @THR and @nytimes), and for film (congrats @ShapeOfWater!). Thank you to all of you for tuning in. See you in 2019 for Year 8!

— Ben Zauzmer (@BensOscarMath) March 5, 2018