Beni Prasad Verma quits Congress, rejoins SP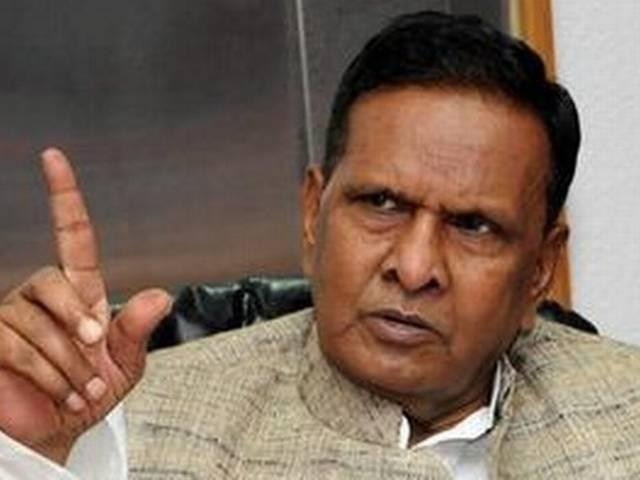 By:

PTI
Updated:
13 May 2016 09:23 PM
New Delhi: Former Union Minister Beni Prasad Verma on Friday quit the Congress party to rejoin the Samajwadi Party, a move which is likely to shore up the SP's prospects in the 2017 Assembly polls.

The return of 75-year-old Kurmi leader in Uttar Pradesh to the SP fold assumes significance ahead of the Assembly polls as another Kurmi leader -- Bihar Chief Minister and JD-U chief Nitish Kumar -- is trying to make a dent in the SP votebank.

The Kurmi community is the second most dominant OBC caste and a major force to reckon with in the upcoming elections.

Beni, who met SP chief Mulayam Singh Yadav at his residence here this morning, made the announcement at a hurriedly convened press conference where Chief Minister Akhilesh Yadav was present along with some other senior party leaders.

"I was feeling suffocated in the Congress for the past two years. I thank Sonia and Rahulji, but I could not adjust myself in the party in the present scenario. I rejoined the party as I could not oppose Akhilesh Yadav in the coming assembly polls. This party (SP) has been formed by me also and I had named it as Samajwadi Party," Beni said.

Asked about his comments on Mulayam Singh on the issue of Babri mosque demolition, he said, "The time which has gone never comes back. I am not denying anything. For a new start, old things have to be forgotten. Now my objective is to make Akhilesh chief minister again."

Earlier, while in Congress, Beni had blamed Mulayam Singh for the demolition.

Welcoming him to the party fold, Mulayam said he did not feel good when Beni left the party.

"His joining the party will strengthen it and boost morale of party workers. We have formed the party together," Mulayam noted.

The Chief Minister said old friends and old wine are always welcomed.

"We will again come to power in 2017 with his (Beni) returning to party fold," he said.

Speculation is rife within the party that Beni might be SP's candidate for Rajya Sabha elections in July when 11 members of the Upper House are retiring and on the basis of SP's strength in the state assembly Samajwadi party can return six members.

Azam Khan, who was present on the occasion, said when Verma left SP, it caused a lot of pain among party leaders.

"His rejoining will give a good message to party workers and will help in strengthening the party before the Assembly elections," he said.

Once a bitter critic of Mulayam, the former Union Steel Minister had been meeting the SP supremo quite often of late.

His association with Mulayam spans over four decades but he had parted ways with him before the 2009 Lok Sabha elections.

His 'Ghar Wapsi' to Samajwadi Party is likely to have an impact on the electoral fortunes of the ruling party in at least 10 districts of east and central UP and also in Bundelkhand where the Kurmis are in sizeable numbers.

Samajwadi party is also desperate to shore up its electoral support base among Kurmi and other OBCs ahead of the 2017 state assembly elections.

In 2007 UP assembly elections, Verma had floated his own political party, but it failed to open account. In 2009, Verma formally joined Congress and contested the Lok Sabha election from Gonda Lok Sabha seat, but lost.

He was said to be feeling "marginalized" in Congress after losing the May 2014 Lok Sabha polls.