Akhilesh-Rahul's joint press conference in Varanasi cancelled: 10 things to know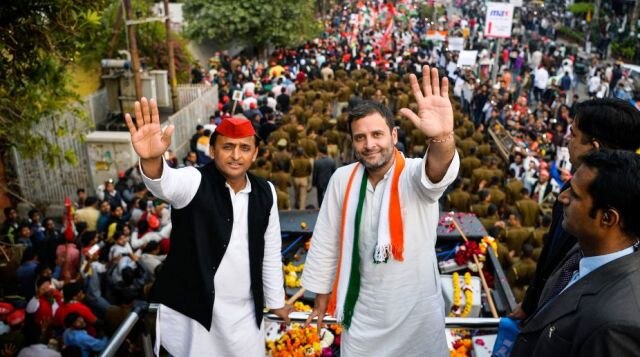 New Delhi: Akhilesh Yadav and Rahul Gandhi's joint press conference on Monday in Varanasi was cancelled due to Uttar Pradesh Chief Minister's hectic schedule of addressing public meetings in seven districts today.


The high-decibel election campaign will finally end in Uttar Pradesh and Manipur on Monday evening.




In their last press conference last month, Rahul and Akhilesh attacked Prime Minister Narendra Modi over demonetisation saying people will take revenge on BJP.




Stating that "mood of Modi has changed after his friendship with Akhilesh", Rahul said, "Now smile has evaporated from his face. He has also come to know that in UP, SP and Congress are going to form the government."




"Like after Bihar polls Modi did not utter the word Bihar, he will forget UP till 2019," he said.




Varanasi will be in spotlight on Monday as the state's top leaders of all the parties, including Modi, Rahul Gandhi, Akhilesh Yadav and BSP chief Mayawati, will be holding massive rallies in eastern Uttar Pradesh.




Targeting political rivals Akhilesh and Rahul, Prime Minister Narendra Modi on Sunday termed the two "galua", which he said in the local dialect meant those born with a silver spoon.




"The (Uttar Pradesh) Chief Minister (Akhilesh Yadav) and his new-found friend (Rahul Gandhi) are galua. They have got everything in inheritance, they are born with a silver spoon," Modi said addressing a huge gathering at Mahatma Gandhi Kashi Vidyapith here at the end of his road show.




"These people born in affluence are weak... they can't take tough decisions because they can't take pains. Only the one who has come from the grass root can take tough decisions," he said.




Modi, who began his speech by chanting "Bharat Mata ki Jai" and "Har Har Mahadev", cited the surgical strikes and demonetisation to underscore that the government should be capable of taking tough decisions.




He said that normally Samajwadi Party, Congress and Bahujan Samaj Party would gnaw at each other, but "ever since demonetisation has been announced they are speaking in one voice".


(With inputs from PTI and IANS)