Political significance of Gadwaghat Ashram where PM Modi fed cows: 5 key points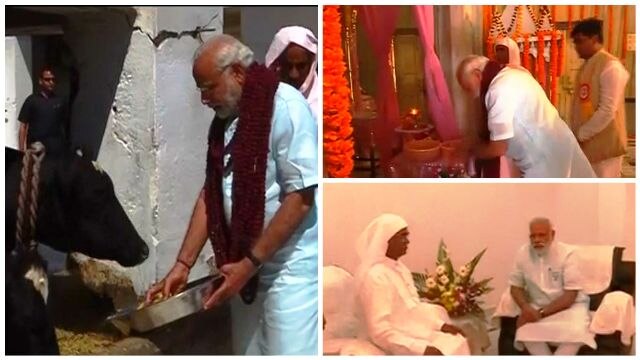 New Delhi: Prime Minister Narendra Modi on Monday visited Gadwaghat Ashram on the banks of the Ganga in Varanasi where he fed grass and bananas to cows.
5 KEY POINTS OF PM MODI'S VISIT TO GADWAGHAT ASHRAM


Wearing a rudraksh maala,   Modi fed cows and prayed at the temple.He then met Mahant Sharananand of Gadhwaghat Ashram to take 'deeksha'.




Modi will during the day hold a rally in Rohaniya to conclude his campaigning for the last phase of Uttar Pradesh polls.




PM's visit to Gadwaghat Ashram is politically significant as Yadavs here are close to the Ashram. Also Dalits and backward caste people are spiritually attached to it.




Reports say SP leader Shivpal Yadav frequently visits the place with his family. Mulayam Singh Yadav and Congress VP Rahul Gandhi have also visited the Ashram in the past..




According to a TOI report, "The ashram has more than 2 crore followers from across castes. It has 125 branches throughout the country. It was set up in 1930 by 'Dada guru' Shri Shri 1008 Swami Adhvyaitanandji Maharaj."