Modi 'magic' claim in UP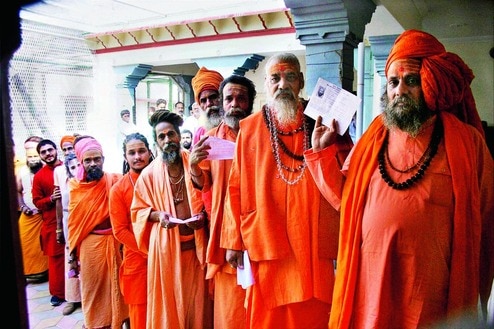 New Delhi: The BJP expressed confidence it would return to power in Uttar Pradesh after a 14-year " vanvas (exile)", claiming the Narendra Modi "magic" had swayed voters across the state where polling ended on Wednesday.

"We are confident that on March 11 (results day), Uttar Pradesh will get freedom from the SP and the BSP and a BJP government will be formed. People have expressed their faith in the leadership of Modiji and it will be revealed on March 11," a BJP leader said on Wednesday evening after voting ended.

Other leaders pointed to an increase in turnout in the last and seventh leg of the polls compared with the previous two rounds and claimed it signalled a BJP surge.

The turnout was 64.22 per cent, 65.16 per cent, 61.16 per cent and 60.37 per cent, respectively, in the first four rounds but dipped to 57.37 per cent and 57.03 per cent in the fifth and sixth phases. The fall had the BJP worried. On Wednesday, voting crossed the 60-per cent mark.

Despite the excitement, the figures from the Prime Minister's constituency, Varanasi, left some concerned. The turnout was 61 per cent till 5pm and, while this was marginally higher than the 59.48 per cent in the 2012 polls, BJP leaders had expected 65 per cent voting after Modi's extensive campaign in Varanasi. The number was 65 per cent only in the Varanasi South seat, considered a BJP stronghold, and hovered around 60 per cent in two other urban seats.

In his three road shows and as many public meetings in the city, Modi had urged voters to come out in large numbers. He repeated the appeal this morning with the tweet: "Pahle matdaan, phir jalpaan (first voting, then breakfast)."

"We had hoped the turnout in Varanasi will be much higher. Still, we are confident of winning all five seats under the Varanasi Lok Sabha constituency," another BJP leader said, adding Modi's campaign had helped the party in all 40 seats where voting took place on Wednesday.

BJP poll managers claimed that barring some constituencies, the party's strategy of winning over upper caste and non-Yadav backwards had worked and hoped the combination would ensure a comfortable majority in the 403-member Assembly.

Apart from the "solid" caste equation, the leaders felt Modi's popularity had played a big role in Uttar Pradesh, and in the four other states that went to the polls over the past month. These leaders said that barring Punjab, they were hopeful of winning power in Uttarakhand, Goa and Manipur. "The results of the elections will reaffirm the popularity of Narendra Modi. He was our face in the elections," the BJP leader said.