Viral Sach: 3000 condoms used daily in JNU?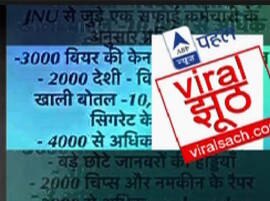 Jawahar Lal Nehru University is in news for a while now. Social media is also very active on this issue. Now a latest viral video has said that 3000 used condoms are found in the campus daily. What is the reality?

The viral message says that JNU's workers find 3000 used condoms, 2000 liquor bottle, 10 thousand cigratte butts, 4000 bidis and 500 abortion injections daily.

The message was so viral that BJP MLA Gyandev Ahuja read the message for his supporters.

ABP News is not saying that liquor is not drunk in the campus or condom not used, but there is no system to count them.

We think that this is a fake message.