Afghanistan: 10 killed, 4 injured in suicide attack at security checkpost in Jalalabad
A rebel detonated his suicide vest around 10 a.m. in Jalalabad, the capital of Nangarhar.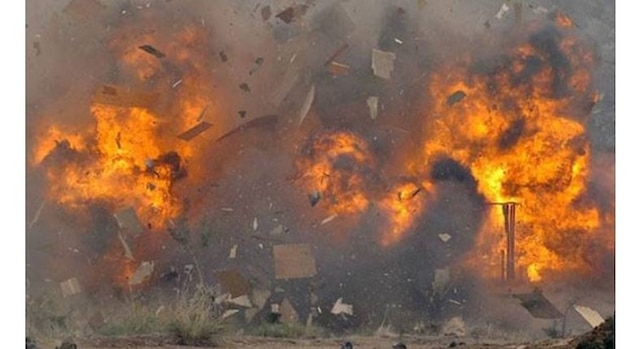 Kabul: At least 10 people, mostly civilians, were killed and four others were wounded on Tuesday in a suicide attack on a security checkpost in Afghanistan's Nangarhar province.

A rebel detonated his suicide vest around 10 a.m. in Jalalabad, the capital of Nangarhar, the regional governor's spokesperson Attaullah Kogyanai told Efe news.

The attack, which also damaged nearby shops and civilian vehicles, had targeted a security post for checking and registering vehicles passing through the area.

Nangarhar Public Health Directorate spokesperson Inamullah Myakhil said the wounded, including two members of Afghanistan's main intelligence agency, the National Directorate of Security, were moved to the hospital.
Afghan victims receive treatment at a hospital following a suicide attack in Jalalabad on July 10, 2018.
A suicide attacker blew himself up near an Afghan security forces vehicle on July 10, killing at least 10 people, mostly civilians, officials said, in the latest deadly violence to rock the country. The explosion in the eastern city of Jalalabad also left at least four people wounded and set a nearby petrol station alight, the provincial governor's spokesman Attaullah Khogyani told AFP. / AFP PHOTO / NOORULLAH SHIRZADA
Police spokesperson Hazrat Hussain Mashriqiwal confirmed that the incident was a suicide attack and added a probe was on. No insurgent group claimed the attack.
Nangarhar is a hotbed of insurgency with the presence of many terror groups, including the Taliban and the Islamic State.
On July 1, 19 people - mostly from the minority Hindu and Sikh communities- were killed and 21 were wounded in another suicide attack in Jalalabad, which coincided with a visit by President Ashraf Ghani.
The Afghan government has increasingly lost ground to the Taliban since the end of the NATO combat mission in 2015, and now controls just 56 per cent of the country, according to the US government's Special Inspector General for Afghanistan Reconstruction.