Bizarre! Inebriated man gets stuck on top of 32-ft-long lamp post; this is how he was saved
"You'll never find our 13.5m ladder pitch in any Drill book, it was a one off.." the fire department of Handsworth tweeted.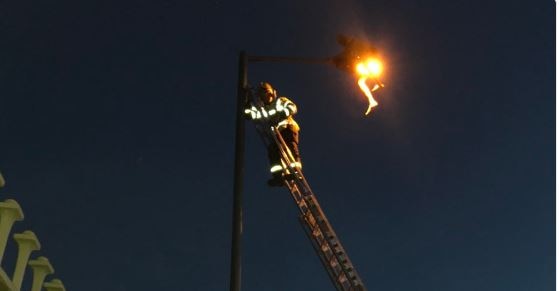 London: 
In a bizarre incident a man got stuck at the top of a 32-feet lamp-post in Birmingham and was rescued by firefighters in a complex operation.
It is not yet clear how the man managed to scale up the 32-feet-long pole but it's being said that he was high on some illegal stuff.

As per British media reports, the man was stranded on the top of the post for about an hour. The incident is of Handsworth in Birmingham.

Crews used a ladder from a hydraulic platform to get him down, the BBC reported.

A spokesman said they had no idea how he got there. He did not identify the man.

The fire service tweeted he had taken an "illegal high" and the incident could have "ended very differently."




A few more pics from our earlier incident. The HP crew from @HighgateFire got there just in time. You'll never find our 13.5m ladder pitch in any Drill book, it was a one off... pic.twitter.com/fx4nNty97n


— Handsworth Fire (@HandsworthFire) June 30, 2018



Blue watch @HandsworthFire @HighgateFire rescue man swinging from lamppost, great multi agency work with @WMASHART AND @WMPolice pic.twitter.com/1HDExl5S9L


— Handsworth Fire (@HandsworthFire) June 30, 2018



West Midlands Ambulance Service said they were called to reports of a man in "a precarious position at the top of a lamppost" just on Saturday night.

It sparked a huge rescue operation, involving police, fire crews and the ambulance service, with the man's life potentially hanging in the balance.

The area was also cordoned off.

In photos taken by fire crews at the scene, the man could be seen perched right on the end of the light with his legs dangling either side, the Mirror reported.

He was treated for a hand injury and taken to a hospital.

A West Midlands Police spokeswoman added: "We were called to reports of a man up a lamppost in Holly Road, Handsworth, at around 9.50pm. He came down around an hour later and was taken to a hospital.

(with PTI inputs)