CPEC construction evident of Pak Army selling sovereignty to China: Report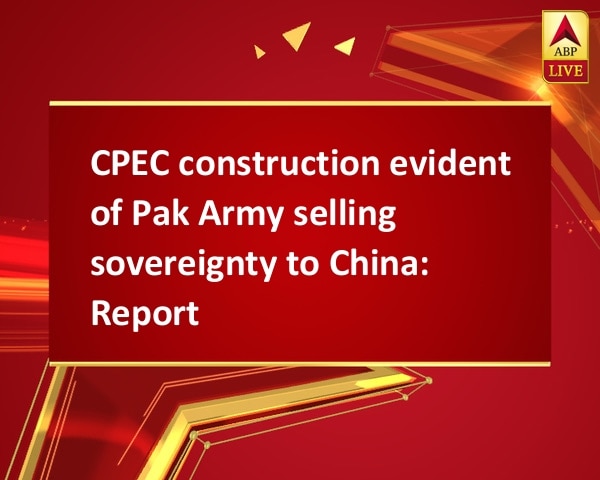 By:

ANI
Updated:
28 Jul 2017 06:45 AM
Amsterdam [The Netherlands], July 28 (ANI): Amid the ongoing Panamagate controversy, China and the Pakistani Army are trying to ensure that the construction of the China Pakistan Economic Corridor (CPEC) does not face any disruption, thus, making it clear that their interests are more important than the hard-earned money of Pakistani tax-payers, said a recent report by the European Foundation For South Asian Studies.
The Panama Leaks fallout on Prime Minister Nawaz Sharif has imposed a challenge over the construction of the CPEC. Although the two countries have agreed to move the CPEC project forward, regardless of the Panamagate issue, the Chinese leadership's instruction was that the Pakistani Army-driven Joint Investigation Team (JIT) needs to guarantee that the project remains the country's main priority.
The report which aimed to determine Russian, Chinese and U.S. involvement in the South Asia said, "It is evident how after being dependent on the United States, the Pakistani Army has again found a buyer to sell its country's sovereignty and conceal its failures. The cover-up of this scam, orchestrated by China and the Pakistan military establishment in order to safeguard the construction of the CPEC is no less than a crime to camouflage many other crimes."
The report highlights that the economic corridor passes through the region of Gilgit Baltistan (part of the disputed territory of Jammu and Kashmir), which besides being in contravention of the international law, has also resulted in exploitation of local resources of the region and its indigenous people and an increase in human rights against those local voices which oppose the move.
"The construction of the corridor is of crucial importance for the Chinese since it is their only gateway to the Arabian Sea. If Nawaz Sharif's government would be sent home due to the Panamagate issue, it would create a political vacuum in Pakistan, which does not play in Beijing's advantage, while it has already pledged to invest 60 billion dollars into this infrastructural venture," says the report.
"Most likely, the Pakistani Army would like to keep the pressure on Nawaz Sharif by letting the courts investigate and perhaps even allow it to come up with a harsh judgment. The officers of the Pakistani Army are much more content in de facto ruling the country while having a weak Prime Minister than having a military President, who has to deal with legitimacy issues," it adds.
Commenting on China's role in the South Asian region, the report says, "Afghanistan seems also to be interested in bringing China closer to itself, since the latter has a profound impact over Islamabad and Kabul well recognizes the significance of Beijing's supremacy over Pakistan and its Army."
Meanwhile, it says that China also has no interest in a Taliban-ruled Afghanistan, since there is still a covert connection between the Taliban and the ethnic Uyghur Muslim militants, and such ties always come to surface. In recent years, alleged links between the Uyghur and jihadist groups such as ISIS and Al-Qaeda have also imposed challenges towards China's counter-terrorism strategy. (ANI)
This story has not been edited. It has been published as provided by ANI