Death toll in Balochistan attack reaches 130, Pakistan to observe national mourning day today
Militants targeted a gathering of Balochistan Awami Party (BAP) leader Siraj Raisani in the Mastung area in the troubled province yesterday, killing at least 128 people and injuring over 200 others.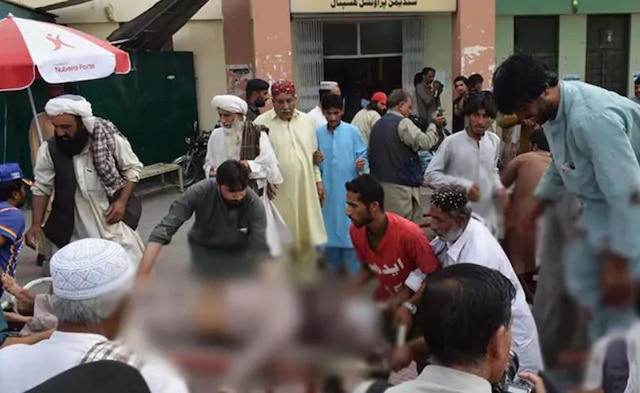 By:

PTI
Updated:
15 Jul 2018 08:22 AM
Peshawar: The death toll in the Balochistan suicide blast targeting an election rally rose to 130 on Saturday as two persons succumbed to their injuries, prompting the Pakistan government to announce today as a day of national mourning over a string of terror attacks that have raised security concerns ahead of the July 25 polls. Militants targeted a gathering of Balochistan Awami Party (BAP) leader Siraj Raisani in the Mastung area in the troubled province yesterday, killing at least 128 people and injuring over 200 others.

Raisani, who was a candidate from PB-35 (Mastung), was among those killed in the attack. Two persons succumbed to their injuries today, taking the death toll to 130, The Express Tribune reported, adding that at least 20 of the injured are reported to be in critical condition. With two more deaths, the number of casualties mounted to 135 in the yesterday's twin attacks in Balochistan and Khyber-Pakhtunkhwa provinces.

Five persons were killed after a bomb hit a rally of Akram Khan Durrani of Mutahida Majlis Amal (MMA), an alliance of religious parties, in the Bannu area Khyber-Pakhtunkhwa. The Islamic State terror group had claimed responsibility for the Balochistan attack through its Aamaq news agency.

Authorities suspect the suicide bomber entered Balochistan from Afghanistan and was provided a safe house in the Chagi area before he came to Mustung. Pakistan Prime Minister's Office, in a statement, today said in view of tragic incidents of terrorist attacks at Peshawar on Tuesday and in Mastung and Bannu yesterday, the government has announced to observe one day official mourning throughout the country tomorrow.

"The day is being observed to pay tributes to the martyrs of terror incidents and express grief and solidarity with the victims' families. The national flag will fly at half-mast on the occasion," the statement said. Caretaker Prime Minister Justice (retd) Nasirul Mulk directed the Ministry of Interior to formally issue a notification for declaring tomorrow as the day of mourning as a mark of respect to those killed in recent terror attacks.

The Balochistan government had already announced a two-day mourning in the province. The funeral prayers of Raisani were held in Quetta this evening with hundreds of people in attendance following which he was laid to rest in his hometown of Kanak in Mastung. Pakistani army chief General Javed Qamar Bajwa, along with other high ranking military and police officials, caretaker chief minister of Baluchistan Alauddin Marri and his cabinet, also attended his funeral prayers. Bajwa also visited the injured being treated at CMH in Quetta.

Meanwhile, Nawabzada Lashkari Raisani, the brother of Siraj Raisani, attacked the Pakistani government for failing to protect its citizens against terrorists. Lashkari demanded setting up of a "truth commission" to probe all decisions and policies made by the governments dating back to General Zia-ul-Haq's era. "Those who make policies are responsible and answerable for the blood of the innocent. These (terrorist attacks) are a consequence of incorrect policies," he lamented.

Normal life remained disrupted and business activities suspended in various parts of the Quetta city as security has been put on high alert in the area. With terrorists striking at ease before the general elections, Pakistani security establishment was under pressure to improve security and intelligence gathering to avoid further election carnage.

In an editorial today, the Dawn newspaper wrote, "this sudden upsurge in terrorist incidents calls for several urgent responses. First, state protection must be extended to all candidates who ask for it without delay". "Every effort must be made to ensure that the election is not derailed by elements hostile to the democratic process, for that is what the perpetrators of these attacks are," it said. "It has never been more true that Pakistan's security establishment needs to focus on security, not politics," tweeted analyst Mosharraf Zaidi.

Following the yesterday's twin attacks, the Election Commission of Pakistan summoned Chief of National Coordination Counter-Terrorism Authority (NACTA) today to brief it on security threats to leaders of various political parties. In a letter written to the authority, the commission had said it should be briefed about the security arrangements for political parties and overall security situation in the country, the ARY news said.

The NACTA had recently warned of possible deadly attacks on various politicians, including Imran Khan, ANP's head Afsandyar Wali, chairman of the Qaumi Watan Party (QWP) Aftab Ahmad Khan Sherpao and some PML-N leaders. On Tuesday, a suicide bomber had killed Awami National Party (ANP) leader and candidate in the general elections, Haroon Bilour, and 19 others after striking at a corner election meeting in Peshawar.