Donald Trump and French Prez Emmanuel Macron's 'bromance' is breaking the internet
From the awkward peck-handshake combo to brushing off the dandruff, the moments of their 'bromance' have triggered hilarious reactions.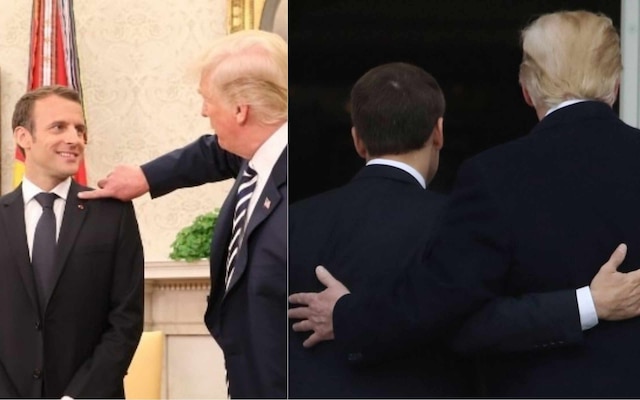 New Delhi
: US President Donald Trump and First Lady Melania Trump, hosted their first state dinner on Tuesday welcoming French President Emmanuel Macron.
Trump for sure liked Macron "a lot", and could not conceal his adoration. Different moments of their bromance has triggered hilarious responses from twitteratis.

Check out some awkward display of fondness by Trump.

The extra long hand shake- kiss combo of the two leaders:

A journalist shared the moment on his Twitter handle.




The Trump-Macron Handshake-kiss combo to top all handshake-kiss combos. #CheddarLIVE pic.twitter.com/JglMOPjOyh


— Brad Smith (@thebradsmith) April 24, 2018



This was not the sole tweet about the handshake . Many verified , non-verified Twitter users were seen cracking jokes about it.

When Trump brushed off Dandruff from Macron's suit 

This is something that indeed raised many eyebrows . Seriously ..does Trump like Macron to that extent ?

He jocularly brushed away what he said was a 'little piece' of dandruff from 'perfect' French President's shoulders to 'make him perfect'.




No, this isn't an SNL skit, it's Trump telling Macron he has dandruff on his suit and wiping it off pic.twitter.com/uJd33tRvYv


— Roland Scahill (@rolandscahill) April 24, 2018

check out some more hilarious reactions on this gesture:




Looks like George Washington, Thomas Jefferson, MLK and Macron were all unamused by Trump's #dandruff bit pic.twitter.com/Jb9vMrkg8S


— Carmen Cuesta Roca (@RocaStarCarmen) April 24, 2018



It's a good thing Macron didn't have a booger hanging out of his nose...it would have REALLY been an awkward moment! #dandruff 👃


— ~U.S. Idiocracy~ (@beerluvr2) April 24, 2018



Trump makes it snow in April, in order to debunk the global warming hoax. #dandruff pic.twitter.com/4GTfgReKSr


— Meme Chaos (@ExtinctMedia) April 25, 2018



When Trump held Macron's hands and just literally pulled him along

Trump could be seen leading Macron while holding his hands. Twitteratis bursted in laughter, "is Macron a kid? "




Watch Trump yank Macron away like he's a kid on a mission to eat some ice cream. pic.twitter.com/tGrDAsakAR


— Scott Dworkin (@funder) April 24, 2018