Double car bomb blasts rock Yemen's Aden city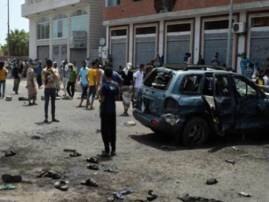 New Delhi:  Two car bombs exploded outside the international airport in the southwestern Yemeni city of Aden, killing at least four people on Wednesday morning.

According to the reports, those killed were reportedly loyalists to Abd Rabbuh Mansur Hadi, who has resigned as Yemen's president but whose forces are fighting under Saudi military leadership to restore him to power.

The area has been cordoned off and a probe has been initiated by the police. The injured have been rushed to the hospital.