GST a game changing reform, will remove barriers: Krish Iyer, CEO Walmart India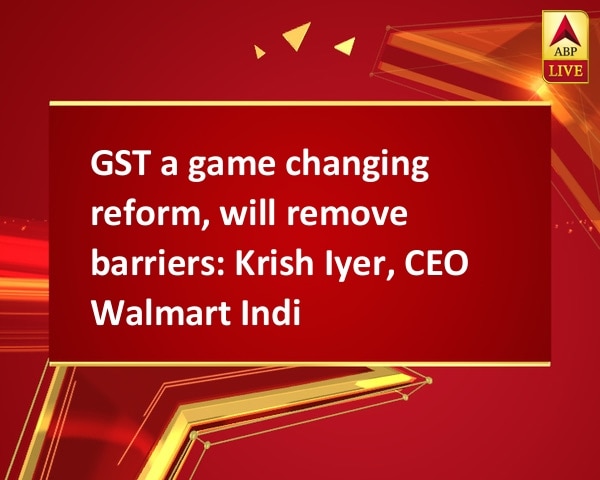 By:

ANI
Updated:
26 Jun 2017 05:45 AM
Washington D.C. [USA], June 26 (ANI): Walmart India CEO Krish Iyer hailed the Goods and Services Tax (GST) bill, which will be rolled out on July 1st, as a 'game changing reform' that would ease business barriers and help bring down prices of essential commodities in the long run.
Speaking exclusively to ANI here post Prime Minister Narendra Modi's CEOs roundtable conference, Iyer said, "We reiterated our commitment to India. We talked about the various things we do in terms of global sourcing, global technology center and the work that we do in the space of farmer's and women's economic empowerment."
Commenting on GST, he said, "I believe that GST is a game changing reform. It is not just a tax reform but is a new way of doing business which will remove a lot of barriers which exist in the country and will eventually help in bringing down the prices of essential commodities."
He added that GST would help small and medium enterprises and suppliers.
GST is India's biggest and most ambitious tax reform that is being rolled out in hope that it will shore up tax revenues, cool inflation and accelerate growth.
When implied it will tear down trade barriers by replacing 15 different central and state levies. The government has assured that the reform will not be inflationary.
Similarly, Commenting on the GST rollout, Google CEO Sundar Pichai told ANI, "We are all looking forward to the July 1st roll out. I know it has been a very difficult thing to do so I'm excited to see it happen. Shows that you can achieve reform by pushing hard for it and I hope it is just the beginning."
At the conference with the business honchos, the Indian Prime Minister stressed that the whole world is looking at India today adding that growth for New Delhi also presents a win-win partnership for the United States.
The CEOs conference included the likes of Apple CEO Tim Cook, Adobe CEO Shantanu Narayen, Amazon CEO Jeff Bezos, Alex Gorsky, Chairman & CEO, Johnson & Johnson, Walmart CEO Doug McMillon and many others. (ANI)
This story has not been edited. It has been published as provided by ANI