Hawaii residents flee as Kilauea volcano erupts continuously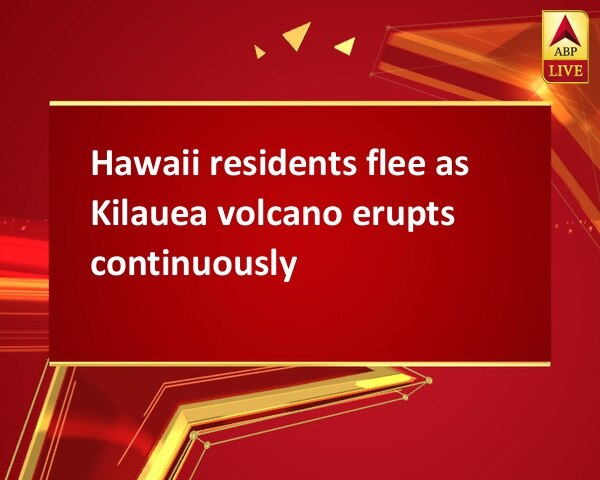 By:

ANI
Updated:
06 May 2018 07:15 AM
Honolulu [Hawaii], May 6 (ANI): Hundreds of residents of Hawaii's Big Island continued to flee as lava and molten rocks erupted from Kilauea volcano spewed into the neighbourhoods of the island on Saturday.
The volcano, which became active, was the result of the Friday's 6.9 magnitude earthquake, and has already driven people out of their homes in Big Island, CNN reported.
"The earthquake, one of the dozens to hit the area in 24 hours, was the most powerful on the island since 1975," the United States Geological Survey said in a statement.
"The jolts and tremors have been consistent. There are still plumes going out. There's a couple cracks that's close by that still have steam coming out. There's a lot of glow, a lot of fires", Ikaika Marzo, who lives on the Big Island, told CNN affiliate KHON on Friday.
Big Island's Civil Defence Administrator Talmadge Magno further said that the volcanic activity would continue and not slow down in the next few days.
About 14,000 customers of Hawaii Electric Light lost power immediately after Friday's earthquake.
"Power has been restored to about half those customers, but sulphur gas levels in some areas are too high for employees to work," utility spokeswoman Rhea Lee-Moku said on Friday.
The earthquake led to the opening of cracks in Kilauea volcano's rift zone, an area of fissures, spewing lava near the island's eastern edge and destroying roads, vehicles, and trees in Big Island.
At least seven volcanic vents have opened in Leilani Estates, according to the Hawaii Civil Defense Agency. All residents of Leilani Estates, where around 1,700 people live near the Big Island's eastern edge, and nearby Lanipuna Gardens have been ordered to evacuate, CNN further reported.
The Mayor of Hawaii County, Harry Kim said, "The government will support residents who want to go back to their homes to pick up some belongings."
Hawaii, which has a number of active volcanoes, is located in the "Ring of Fire", an area in the basin of the Pacific Ocean, which is vulnerable to frequent earthquakes and volcanic eruptions. (ANI)
This story has not been edited. It has been published as provided by ANI