India's growth presents win-win partnership for India-US: PM Modi at CEOs roundtable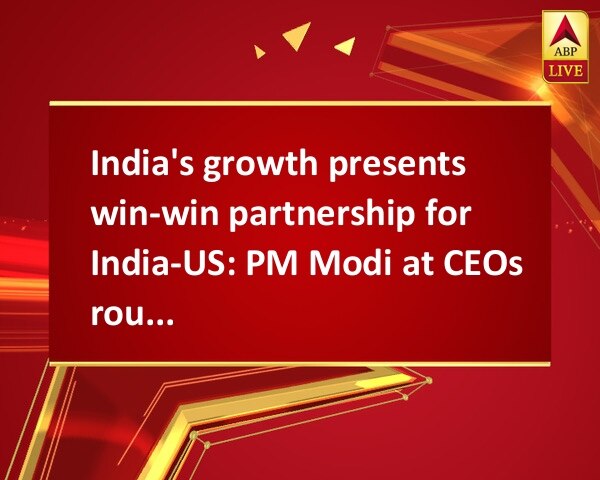 By:

ANI
Updated:
25 Jun 2017 10:50 PM
Washington D.C. [USA], June 25 (ANI): Indian Prime Minister Narendra Modi on Sunday held a round table meeting with US business leaders here, including the likes of Apple CEO Tim Cook, Google CEO Sundar Pichai, Adobe CEO Shantanu Narayen and Amazon CEO Jeff Bezos.
At the conference, the Prime Minister stressed that the whole world is looking at India today adding that growth for New Delhi also presents a win-win partnership for the United States.
The Indian Government so far has carried out about 7,000 reforms for ease of doing business in the country and provide for minimum government, maximum governance.
"The implementation of the landmark initiative of GST could be a subject of studies in US business schools," said the Prime Minister.
The CEO's in presence included -
1. Shantanu Narayen, Chairman, President & CEO, Adobe
2. Jeff Bezos, Founder & CEO, Amazon
3. Jim Taiclet, Chairman, President & CEO, American Tower Corporation
4. Tim Cook, CEO, Apple
5. Jim Umpleby, CEO, Caterpillar
6. John Chambers, Executive Chairman, Cisco
7. Punit Renjen, Global CEO, Deloitte
8. David Farr, Chairman & CEO, Emerson
9. Mark Weinberger, CEO, Ernst & Young
10. Sundar Pichai, CEO, Google
11. Alex Gorsky, Chairman & CEO, Johnson & Johnson
12. Jamie Dimon, CEO, JPMorgan Chase & Co.
13. Marillyn Hewson, Chairman, President & CEO, Lockheed Martin
14. Arne Sorenson, President & CEO, Marriott International
15. Ajay Banga, President & CEO, Mastercard
16. Irene Rosenfeld, Chairman & CEO, Mondelez International
17. David Rubenstein, Co-founder & Co-CEO, The Carlyle Group
18. Doug McMillon, President & CEO, Walmart
19. Charles Kaye, Co-CEO, Warburg Pincus
20. Daniel Yergin, Vice Chairman, IHS Markit
21. Mukesh Aghi, President, USIBC
Prime Minister Modi who touched down the Andrews Air Force base in Washington yesterday is on a bilateral visit to meet U.S. President Donald Trump.
He would be the first world leader to have a working dinner with U.S. President Donald Trump at the White House on Monday.
Speaking ahead of the visit, India's Ambassador to the U.S., Navtej Sarna, said that Prime Minister Modi and President Trump would discuss crucial issues such as counter-terrorism, security and cyber security.
Meanwhile, White House Press Secretary Sean Spicer said that he is expecting a very robust discussion to take place between the two leaders. (ANI)
This story has not been edited. It has been published as provided by ANI