Indian mission in Hungary hosts 3-day "Ganga-Danube: Cultural Festival of India"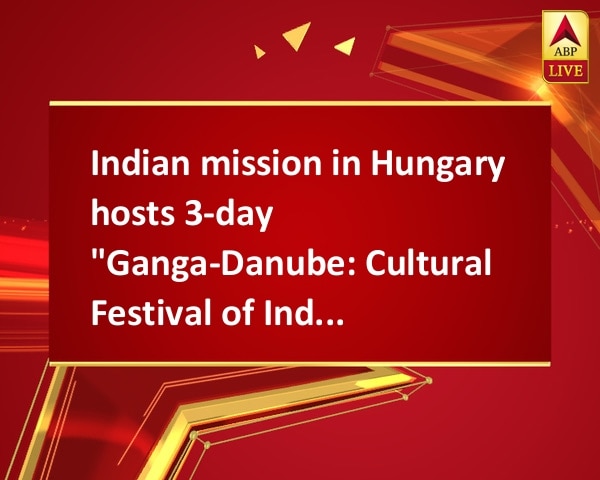 By:

ANI
Updated:
23 Jun 2017 07:15 PM
Budapest [Hungary], June 23 (ANI): The Embassy of India is hosting a three-day second edition of the "Ganga-Danube: Cultural Festival of India" and Third International Day of Yoga in 15 cities of Hungary from June 23 to June 25.
The cities where this festival is being showcased are Budapest, Balatonfured, Debrecen, Eger, Esztergom, Gyor, Nagykanizsa, Nagykoros, Miscolc, Pecs, Sarvar, Szentendre, Sopron, Szeged and Veszprem.
On June 24 and June 25, the embassy is staging several cultural performances, yoga practices, yoga workshops, Indian folk art Henna, a food festival and screening of Bollywood movies in these 15 Hungarian cities, which will be open to the public, free of cost.
For the first time ever, on the International Day of Yoga, the historic and iconic symbol of Budapest, Chain Bridge was lit up with India colours and motifs throughout the night of June 21. It carried animated symbols of IDY and Ganga-Danube Festival.
The festival kickstarts global celebrations of 70th anniversary of India's independence by Ministry of Culture.
The embassy said it has managed to raise substantial resources through private sector sponsors, including leading international corporates like Mastercard and Decathlon.
In Szentendre, which is a historic city on the banks of River Danube, a ceremony of mixing the waters of Ganga and Danube will be performed symbolizing the confluence of two cultures. During the ceremony Ganga Sutra and Ganga-Danube Aarti will be performed along with Shanti mantra.
Yoga sessions for handicapped and blind children will also be organised.
As curtain raiser to the event, yoga flash mobs were organised in four cities of Hungary.
In view of the extremely successful celebrations last year, several mayors contacted us to requested that their cities be included in the festival.
The inaugural gala evening is being organized in the prestigious Urania theatre. Invitation to this exclusive gala opening ceremony is attached.
The other salient features of the festival are:
i) A famous Hungarian actress, Indian origin singer and a media personality have been appointed as our three brand ambassadors for IDY.
ii) Five yoga teachers from India have been sent by Indian Council for Cultural Relations for yoga demonstration and for organizing yoga workshops during the festival.
iii). Events being organized in the open main public square to ensure maximum public participation/audience
iv). Quiz and essay contest on yoga which is being organized online with the help of 'Greycells' an Indian quiz company and prizes will be distributed to the winners on inaugural ceremony.
v). Active usage of social media to promote participation by the local community.
vi) A total of five Indian troupes consisting of 35 artists (i) Raasleela Troupe-folk (ii) Mohiniyattam dance troupe, (iii) Alaknanda Dasgupta group-Kathak (iv) Ms. Baladevi Chandrashekar -Bharatnatyam dance (v) Mr. Debashish Ganguli- sitar player will be performing during the festival.
vii) The embassy is also utilising the services of 11 Hungarian groups consisting of around 50 artists proficient in Indian classical dance and music for the 15 cities.
viii). Entire effort is being coordinated by the Embassy without the assistance of any professional impresario.
The embassy also organized the third International Day of Yoga in three cities of Bosnia and Herzegovina (BiH) i.e. Sarajevo, Banja Luka and Mostar from 17-18th June, 2017.
A yoga workshop was also organized in Gradiska town in the police complex by visiting yoga teacher from India.
In Banja Luka, the event was part of the local Dukatfest and opened by India with classical Indian dances and music. (ANI)
This story has not been edited. It has been published as provided by ANI