Israel emphasises importance of Modi's visit, hints at some surprises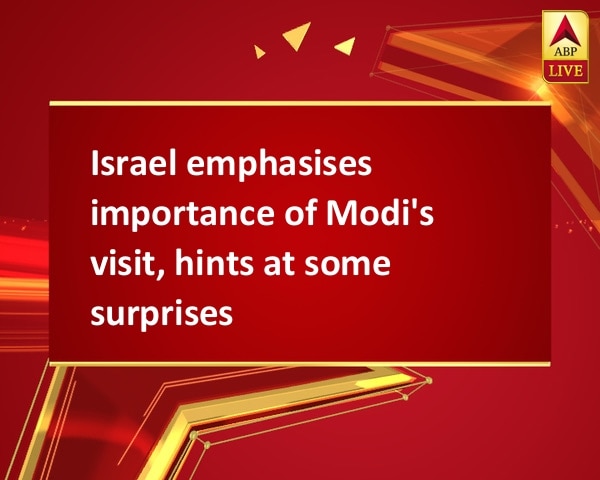 By:

ANI
Updated:
03 Jul 2017 10:05 PM
Jerusalem [Israel], July 3 (ANI): Israel's foreign ministry on Monday stressed upon the importance of Prime Minister Narendra Modi's two-day visit to Israel and hinted that many surprises could unfold during the visit.
Israel Ministry of Foreign Affairs Director General Yuval Rotem said, "The visit is important for the relationship of both the countries. The visit is going to be covered in an unusual way. We expect both of them communicating on social media platforms, so expect some nice surprises with this visit."
Stressing on the design of the visit, Rotem said, "The design of the meet has been chalked out from the visits made by high ranking official delegations from India."
The visit is taking place within the context of the 25 years of the Hindu-Israeli relations, and its aim to set up a road map of their partnership for the next 25 years.
"Prime Minister Modi is Israel's good friend. Both the prime ministers have believed strongly in this visit and the relationship between the two leaders," Rotem said.
Rotem mentioned that the practice of Israeli Prime Minister accompanying a foreign dignitary throughout all the events, is not a usual practice.
"No other visit which happened in the past, witnessed the prime minister accompanying the foreign dignitary throughout the visit, but Prime Minister Netanyahu would accompany and escort Prime Minister Modi, throughout the three days of his visit", he said.
Israel Foreign Ministry's Deputy Director General in charge of the Asia and the Pacific Division Mark Sofer also stressed on the 'symbolic significance' of the first ever visit by an Indian Prime Minister.
Giving out details of the visit, Sofer said India and Israel have identified fields that are crucial for the future relationship which include water and its usage for agricultural purpose.
"We would be setting up a joint strategic partnership in the field of water and agriculture," he said adding that other areas of cooperation would include innovation and space cooperation.
Sofer said that the Indian government will open a cultural centre in Israel and a CEO forum of top echelons of the business communities of both sides would also be formed that would be meeting prior and during the visit and with the Prime Ministers.
Sofer said that the recent resolution adopted by Israel aimed at strengthening ties with the India ahead of Modi's visit is by far the most far reaching and wide-ranging resolution taken.
"We have had resolutions with other countries including China, Japan, Africa, Latin America, but this is by far and away the most wide-ranging resolution taken. It is something that will govern the roadmap of moving forward in the years to come," he said.
He added that upon arrival, Prime Minister Modi will visit a technological centre between airport and Jerusalem and then head to Yad Vashem, the national Holocaust memorial in Jerusalem.
On Wednesday, the Indian leader will meet with Israeli President Reuven Rivlin, hold talks with Prime Minister Netanyahu and then attend an event organised by the Indian community in Israel in Tel Aviv. (ANI)
This story has not been edited. It has been published as provided by ANI