Death toll in Italy earthquake reaches 247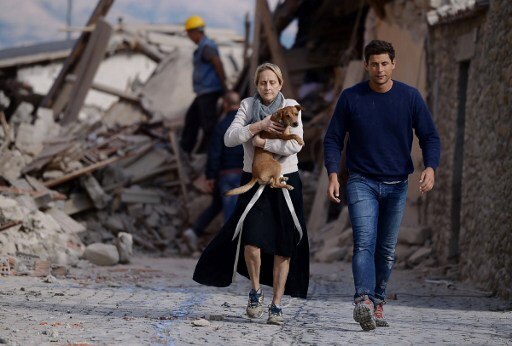 ROME: Italian authorities say that the death toll from Wednesday's earthquake in the central part of the country has risen to 247.
The civil protection agency gave the updated figure early Thursday, about 27 hours after the earthquake struck. The tremors reduced three towns to rubble and sparked urgent search efforts.
Residents in a central Italian region devastated by an earthquake have been jolted awake by a strong aftershock.
The U.S. Geological Survey put its magnitude at 4.7 with the epicenter about 7 kilometers east of Norcia, with a relatively shallow depth of 10 kilometers (6 miles). The latest temblor struck at about 5:40 am Thursday.
People walk past the rubble of buildings in Amatrice after a powerful earthquake rocked central Italy. AFP Photo.
Norcia, which is about 170 kilometers (105 miles) northwest of Rome, was the epicenter of Wednesday morning's 6.2 earthquake that leveled the central Italian towns of Amatrice, Accumoli and Pescara del Tronto, and killed at least 159 people.
A series of aftershocks struck towns in the region, toppling scores of buildings, according to reports.
Many persons are still believed trapped beneath building debris, while rescuers were struggling to reach remote villages and towns levelled in the quake.
The Prime Minister had paid tribute to the volunteers and civil defence officials who rushed to the scene in the middle of the night and used their bare hands to dig for survivors.
The earthquake struck at a shallow depth of 10 km.
The epicentre of the quake was in Norcia in Umbria, about 170 km north-east of Rome, while the hardest hit were the towns of Amatrice, Accumoli and Pescara del Tronto.
Much of the town of Amatrice was reduced to rubble.
Residents stand neaxt to damaged buildings after a strong earthquake hit Amatrice, Italy, on August 24, 2016. AFP Photo.
Amatrice is known for its traditional all'amatriciana pasta sauce, and was gearing up to hold a festival celebrating the recipe this weekend, CNN reported.
The town is popular with holidaymakers and most of the 2,500 people left displaced by the earthquake were said to be visitors.
The Italian branch of the Red Cross sent at least 20 ambulances and sniffer dogs to affected areas alongside the Italian Defence Ministry.