Kashmiris must speak in one voice for global support: Experts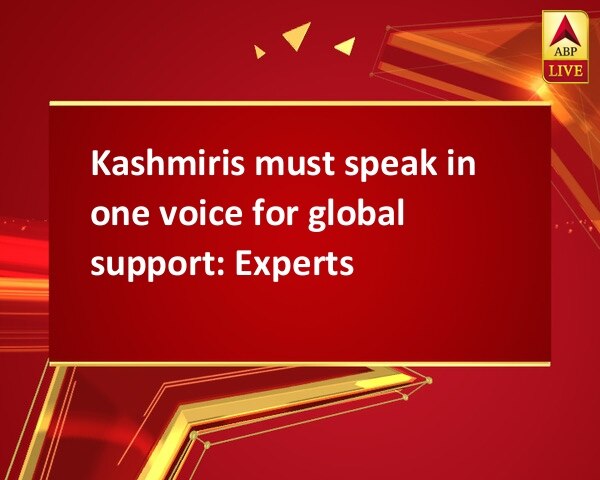 By:

ANI
Updated:
24 Jan 2018 07:35 AM
Birmingham [United Kingdom], Jan.24 (ANI): Experts attending a seminar on Kashmir in Birmingham, United Kingdom, have unanimously agreed that more needs to be done to gain and retain the support of the international community for their cause. They also said that militancy and military operations cannot resolve the vexed and decades-old Kashmir dispute.
The participants, who were from Pakistan, Jammu and Kashmir and the United Kingdom, said Kashmir must be seen as a "bilateral issue" rather than as an "internal issue" of India.
Professor Sidiq Wahid, former vice chancellor of the Islamic University of Science and Technology (IUST) in Awantipora, said, "People in Kashmir have realised that there is a lack of international support."
Dr. Irshad Ahmed Shah, Head of the Department of Political Science, University of Kashmir, said, "The Hurriyat Conference could not articulate and plead the case and influence international opinion. Kashmiris should stand up and decide for themselves. They should think how (can) the bloodshed be stopped. There are issues more important than Azadi. A political issue has been projected as a religious issue, resulting in our failure to motivate the world community for support."
Well known Kashmiri heritage lover Ravinder Pandita said, "Borders may have divided Kashmiris physically, but not their hearts. Our Kashmiriyat has been destroyed. Religious tourism between two parts should be encouraged. Kashmiris Pandits should be free to visit the Sharda Temple (in Pakistan) and people across the border must be allowed to visit the Hazratbal and Charar-e-Sharif shrines. People-to-people contact should be encouraged before thinking about political issues for support at the national or international level."
Khurshaid Nehami an information technology engineer based in the United Kingdom, said, "The economic and political power of India has increased and Kashmir is losing support at the international level. The Kashmir leadership does not appreciate the value of social media and has not even set up a website to tell the people world over what they want. There is confusion in the political behavior of the leadership which has failed to project the issue in the right perspective."
The seminar's theme was "Kashmir Issue - Support at International Level, an Analysis", was organised by the Kashmir Voice International (KVI).
Justice Shraief Hussain Bokhari from Lahore, said, 'Military operations or militancy cannot solve (the) Kashmir dispute. It is the responsibility of the people of Jammu and Kashmir, wherever they live, to convince the international community that Kashmir is an issue of life and honour of 20 million people."
Jammu and Kashmir Liberation Front (JKLF) representative Azmat Khan blamed Pakistan for discouraging initiatives to project Kashmir at the international level.
He said the "Valley leadership has failed to influence international opinion resulting in decrease of support. There is a need to work in India and build a constituency of supporters."
Prof. Faheem Iqbal of Srinagar felt that Kashmiri leaders do not have a blue print for the movement and have failed to create advocates, supporters and sympathisers at international level.
There was a feeling that the Kashmiri diaspora in UK, especially those hailing from Pakistan-administered Kashmir, must raise the issue in a unified manner and not allow clan politics to impact the discourse at the international level.
Mirza Sidiq, President of the J & K Plebiscite Front, "We wish India and Pakistan to understand the aspirations of Kashmiris from both sides of rthe LOC. We wish for good neighbourly relations and progress of both countries. Kashmir is a multi-religious state and its diversity should be respected and preserved. All state subjects should join hands and search for a solution together which should be respected and accepted by both countries."
The seminar also saw the participation of four lady speakers Rana Shama Nazir, Sumara Farooq, Dr. Nighat Iftikar and Rifat Mughal. They called for Kashmiris to be left free to search for a solution without any interference from India and Pakistan.
KVI Chairman Prof. M.A.Raina said in conclusion that the speakers were unanimous on the issue of there being a lack of required support for the Kashmir issue at international level. Their opinion was that Kashmiris around the world have failed to unite and follow a common program. He also questioned the utility of demonstrations by Kashmiri groups which were simply a wastage of resources and have not helped in stopping human rights violations or arriving at a resolution of the issue.
He said Jammu and Kashmir is a multi-cultural and multi-religious state and any solution explored should be acceptable to the people of all the sections and regions of the state.
Vice Chair KVI Irshad Malik delivered the vote of thanks. (ANI)
This story has not been edited. It has been published as provided by ANI