London Buses carry Free Balochistan campaign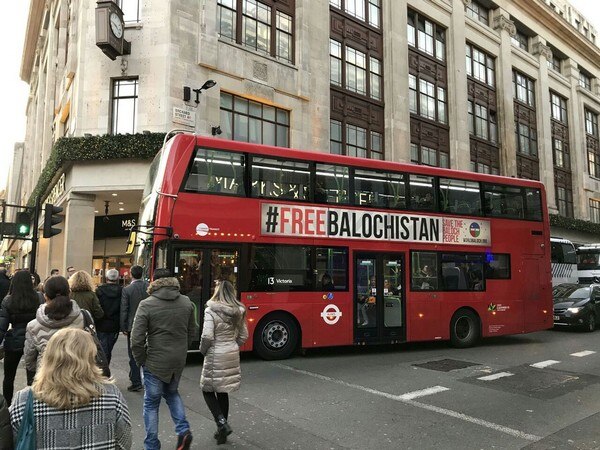 By:

ANI
Updated:
14 Nov 2017 10:55 AM
London [UK], November 14 (ANI): The World Baloch Organisation has launched the third phase of its #FreeBalochistan advertising campaign, in spite of attempts to ban and censor its adverts by the Pakistan Government.
More than 100 London buses are carrying adverts that say "Free Balochistan", "Save The Baloch People" and "Stop Enforced Disappearances".
Bhawal Mengal, spokesperson for the World Baloch Organisation (WBO), said, "?This is the third phase of our London campaign to raise awareness about Pakistan's human right abuses in Balochistan and the right of the Baloch people to self-determination. We started with taxi adverts, then did roadside billboards and now we are advertising on London buses. ?The ?attempts by the Pakistan Government to pressure the UK to ban our adverts have failed. The campaign is powering ahead and will continue for weeks to come. The ?bullying tactics of Pakistan are an attack on freedom of expression. They are an anti-democratic bid to censor the voice of the Baloch people and cover up the war crimes of the Pakistan Army in Balochistan. This is a peaceful advertising campaign. Pakistan's aggressive reaction is a bare-faced attempt to intimidate the UK Government and Baloch human rights defenders."
Pakistan Government officials, in a clear bid to quash the freedom of expression and to intimidate human rights activists, called the campaign "malicious" and "anti-Pakistan."
They pressurised the British Government to remove WBO's adverts. Indeed, within 24 hours, Transport for London ordered the removal of the taxi adverts; though the billboards remained because they were not on TfL property.
WBO, he said, would continue, peacefully and respectfully, to speak out against human rights violations in Balochistan.
Human rights campaigner Peter Tatchell is a long-time supporter of human rights in Balochistan and is backing the advertising campaign.
"Pakistan is seeking to impose on the UK the same censorship about Balochistan that it imposes inside Pakistan. This is an outrageous bid to subvert our democratic tradition of allowing the free exchange of ideas. Pakistan's iron-fisted rule in Balochistan is so brutal that it will not allow journalists, human rights monitors and aid agencies to enter the region. These adverts are much needed to defend the human rights of the Baloch people and to expose the atrocities of the Pakistani military and intelligence agencies," he said.
Noordin Mengal, another leading WBO human rights campaigner, added, "Tens of thousands of Baloch people have been murdered by the Pakistan security forces or have disappeared. The killings are happening right now and are sadly aided by American weapon systems that are being diverted to attack the secular and progressiveBaloch people, including the misuse of US-supplied F-16 fighter jets and Cobra attack helicopters."
"Balochistan was previously a British protectorate that was granted independence in 1947. It was forcefully annexed by Pakistan in 1948 and has been militarily occupied ever since. The people of Balochistan have been denied the right to self-determination, contrary to the UN Charter. The World Baloch Organisation is a peaceful, lawful lobby against Pakistan's war crimes and human rights abuses in Balochistan," Noordin Mengal concluded. (ANI)
This story has not been edited. It has been published as provided by ANI