Macron says door still open for Britain to remain in EU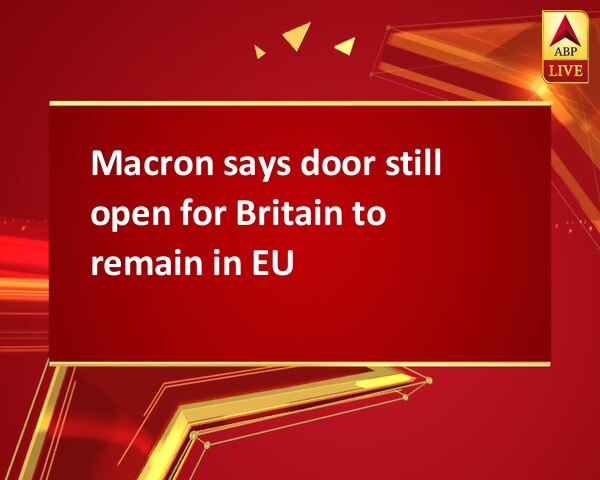 By:

ANI
Updated:
15 Jun 2017 12:00 AM
Paris [France], June 14 (ANI): France President Emmanuel Macron has said that "the door remains open" for Britain to change its mind about Brexit, after talks with Theresa May in Paris.
Speaking at a joint press conference after talking to visiting British Prime Minister Theresa May in the Elysee Palace, Macron said the two countries were determined to strengthen their counterterrorism cooperation and announced his country and Britain will jointly launch an action plan to tackle online terrorist threat and radicalization.
Macron threw out the olive branch, even amid rising EU anger about the delays to the exit talks , which he said should be "launched as soon as possible".
"Of course the door remains open, always open until the Brexit negotiations come to an end," the Independent quoted President Macron as saying when asked if Britain could yet stay in the EU.
Macron's comments came just hours after Wolfgang Schauble, the powerful German finance minister also gave an indication that UK would find "open doors" in Brussels if it decided not to leave the EU.
While May said the UK wants a "deep and special partnership" with the EU and for the bloc to remain strong. Issues on security are also important to cooperate on, the prime minister added.
Macron said "Once the negotiations have started we should be well aware that it'll be more difficult to move backwards."
The British Prime Minister claimed, "I confirmed to President Macron that the timetable for the Brexit negotiation remains on course and will begin next week."
On whether the terms of Brexit would now change, the Prime Minister said, "I think there is a unity of purpose among people in the United Kingdom, having voted to leave the EU, that their Government gets on with that and makes a success of it, and we are committed to developing a deep and special partnership with the EU."(ANI)
This story has not been edited. It has been published as provided by ANI