Many killed in Nigeria fuel tanker explosion
The crash occurred on a bridge as the tanker headed out of Lagos, toward the 127.6 km Lagos-Ibadan expressway in Nigeria's southwest region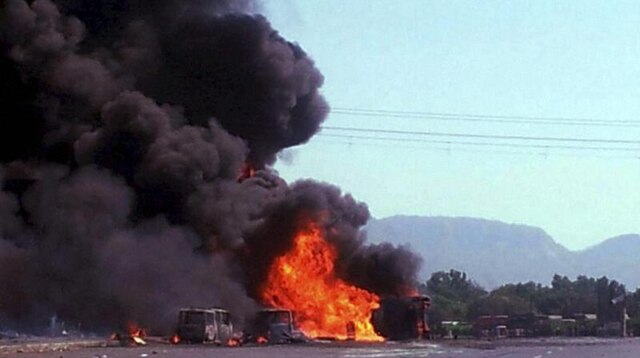 Abuja: Scores of people were feared dead on Thursday evening when a fuel-laden tanker exploded amid traffic in Nigeria's commercial city of Lagos, with the blaze engulfing many vehicles, media reports said.

The crash occurred on a bridge as the tanker headed out of Lagos, toward the 127.6 km Lagos-Ibadan expressway in Nigeria's southwest region, Xinhua reported.

The local Channels Television reported that traffic has been stopped on both sides of the road and emergency officials are at the scene trying to put out the fire and attend to those affected.

Many people were seen trapped in their cars amid the raging fire, eyewitnesses said.

There was a mild traffic on the bridge when the explosion occurred, said Gbolahan Adebisi, a commercial bus driver who witnessed the incident.

Local emergency officials said about 60 vehicles were seen to have been affected by the fire so far.