Mitt Romney stays mum on Senate run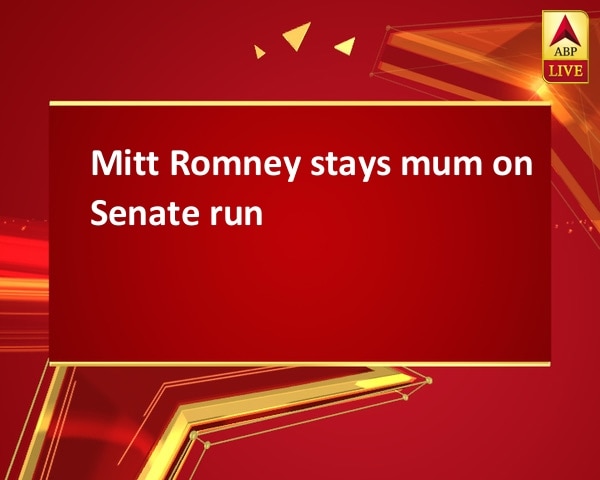 By:

ANI
Updated:
17 Jan 2018 12:35 PM
Washington D.C. [U.S.A], January 17 (ANI): Former Republican Presidential candidate Mitt Romney has dodged questions about whether he was planning to jump into the race for U.S. Senate.
According to Washington Post, Romney, after giving a campaign-worthy speech in Salt Lake City, told reporters that the "time will come" for him to make a big announcement.
The 70-year-old politician stoked the speculation of a campaign to replace retiring Utah Sen. Orrin Hatch, but declined to formally make an announcement.
When Natalie Gochnour of the University of Utah's Kem Gardner Institute asked, "People that give great speeches would look great in the U.S. Senate. Have you ever thought about that?" Romney replied by saying, "I have nothing for you on that topic, Natalie!"
After his appearance wrapped up, Romney exited the ballroom with reporters in tow, pressing him on a Senate run.
"I've got nothing for you on that topic, I'm sorry. I sure had fun today speaking with the Chamber and meeting people here. I'll be here the end of the week as well," noted Romney.
Romney was speaking at the Salt Lake Chamber's annual Economic Outlook and Policy Summit.
But, he did say that he had "a couple of very cordial conversations with President Donald Trump" but declined to say that they had any conversation about his candidacy or what kind of relationship he will have with President Donald Trump, if he is elected.
This was the first of two speeches the former Massachusetts governor is scheduled to give this week to leaders of Utah's business community as he ratchets up appearances in the state.
Romney is scheduled to speak on Friday at the Silicon Slopes Tech Summit. (ANI)
This story has not been edited. It has been published as provided by ANI