'Modern day Presidential': Donald Trump defends use of social media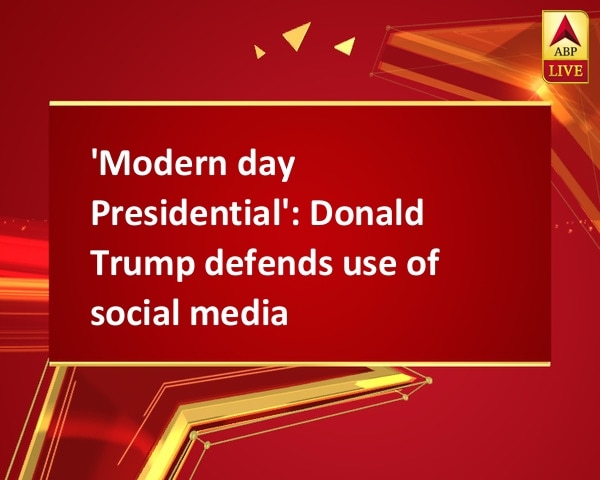 By:

ANI
Updated:
02 Jul 2017 07:00 AM
New Delhi [India], July 2 (ANI): In the wake of his jibes at MSNBC's "Morning Joe" co-hosts and their rebuttal, United States President Donald Trump has defended his use of social media in a series of tweets, hitting back at claims that it is not "Presidential."
Despite days of bipartisan criticism over his initial attacks on the pair earlier this week, Trump resumed his attack on MSNBC's "Morning Joe" co-hosts, calling Joe Scarborough "crazy" and Mika Brzezinski "dumb as a rock."
"Crazy Joe Scarborough and dumb as a rock Mika are not bad people, but their low rated show is dominated by their NBC bosses. Too bad!" Trump tweeted on Saturday morning.
He later fired back at critics of his use of Twitter and renewed his feud with CNN.
"The FAKE & FRAUDULENT NEWS MEDIA is working hard to convince Republicans and others I should not use social media - but remember, I won.......the 2016 election with interviews, speeches and social media. I had to beat #FakeNews, and did. We will continue to WIN!"
He added: "My use of social media is not Presidential - it's MODERN DAY PRESIDENTIAL. Make America Great Again!"
For the first time, Trump also pinned a tweet.
"I am thinking about changing the name #FakeNews CNN to #FraudNewsCNN!" he said.
Trump's use of Twitter has caused a number of controversies in the past, including attacking London Mayor Sadiq Khan after the terror attacks in the capital last month, recent being attacking the "Morning Joe" hosts on Thursday even as he slammed Brzezinski's intellect, questioned her sanity and mocked her appearance.
"I heard poorly rated @Morning_Joe speaks badly of me (don't watch anymore). Then how come low I.Q. Crazy Mika, along with Psycho Joe, came... to Mar-a-Lago 3 nights in a row around New Year's Eve, and insisted on joining me. She was bleeding badly from a face-lift. I said no!" Trump wrote in a series of tweets.
The attack invited the wrath of many politicos and legislators, citing that such a move was unbecoming of the position Trump holds.
Later, Scarborough and Brzezinski responded to Trump's attacks with an opinion piece in The Washington Post titled "Donald Trump is not well."
During their Friday " Morning Joe" broadcast, Scarborough and Brzezinski again accused Trump and his White House of using the possibility of a hit piece in the National Enquirer to threaten them and change their news coverage. (ANI)
This story has not been edited. It has been published as provided by ANI