MQM demands reopening of offices in Pakistan during New York protest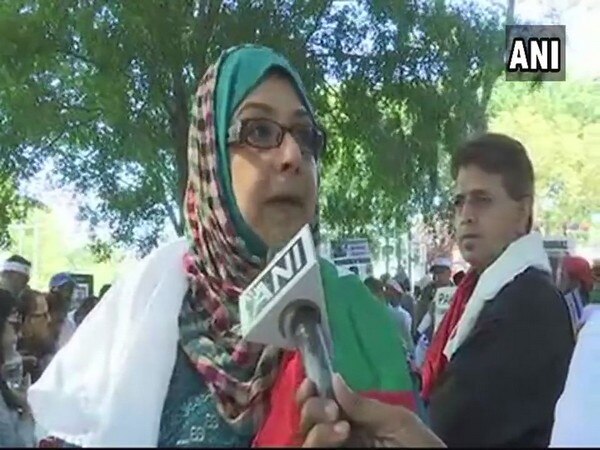 By:

ANI
Updated:
24 Sep 2017 12:55 PM
New York [U.S.A], September 24 (ANI): Pakistan's third largest political party, the Muttahida Qaumi Movement (MQM), staged a protest in New York on the sidelines of the 72nd UN General Assembly session, calling on Islamabad to reopen its sealed offices in Islamabad and in other parts of the country.
It also called on the global community to intervene to save the Mohajir community from persecution by the Pakistan military.
Carrying placards, the protesters said that the "Global community should take notice of the actions and atrocities of Pakistan's paramilitary Rangers and other law enforcement agencies (LEAs) against Mohajir women."
"Urdu-speaking Mohajirs, who are heavily settled in Karachi and dominate its politics, moved to Pakistan from India in 1947,which was our biggest mistake. We demand an international ban on Pakistan Army , Rangers and the government as well for the atrocities done on our community ," Kehkashan Khan, an MQM activist, said.
"Inspite of the fact that Karachi contributes 60-70 per cent of the revenue to national exchequer which is Pakistan's biggest revenue-generating city, we are protesting here to seek intervention of the United Nations, NATO, United States, and even India, over human rights violation and extra judicial killings of the party workers," she said.
"Muttahida Qaumi Movement is the second largest party in Sindh and overall the third-largest party in the National Assembly of Pakistan with 25 MPs and 50 MLAs.The banning of MQM offices reflects how freedom is curtailed in Pakistan and the banning of the political party is unconstitutional, another protester Juman said.
" We are being tortured, about 20000 people belomging to our community have ben killed, We seek military intervention by America, Israel or India to destroy Pakistan and liberate us like the Bengalis wee liberated with the creation of Bangladesh," another protester.
"The Pakistan Government is giving shelter to Talibans, extremists and we are peace loving and modern people and demand that global community should take notice of the cruelaities being undertaken by Pakistan and its army on the religious minorities and ethnic communities," Khan said.
Recently on September 2,Prime Minister Shahid Khaqan Abbasi had communicated to the MQM-P leadership that its unit offices - sealed off or razed last year could not be reopened.
More than 150 unit offices had been sealed off and dozens others dismantled last year after the controversial speech by MQM's London-based leader Altaf Hussain on August 22.(ANI)
This story has not been edited. It has been published as provided by ANI