N Korea to hold military talks with S Korea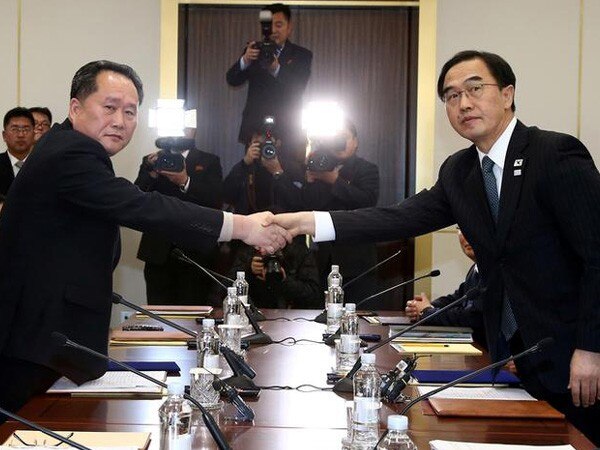 By:

ANI
Updated:
09 Jan 2018 08:40 PM
Seoul [South Korea], Jan 9 (ANI): North Korea on Tuesday announced it was willing to hold military talks with its arch-rivals South Korea, signalling a further thaw in the strained relations between the two countries.
The Sputnik news agency reported that during the meeting in Panmunjom village, located along the heavily militarised DeMilitarised Zone (DMZ), the two sides had agreed to hold talks in order to defuse tensions between the two Koreas.
According to the joint statement that was issued: "Seoul and Pyongyang have agreed to hold consultations to ease tensions on the border between the states."
Earlier, the two sides had met at Panmunjom after two years, during which North Korea agreed to send athletes to Winter Olympics in South Korea next month.
"North Korea concurred to send a high-level delegation which will include athletes, a cheering squad, an art troupe, a visitors' group, a Taekwondo demonstration team and a press corps", said South Korea's vice unification minister, Chun Hae-sung, as reported by CNN.
The minister also announced that both the sides planned to re-open a military hotline, which was one of many that were shut as inter-Korean relations strained, on the western Korean Peninsula, the report said.
The five-member North Korean delegation travelled to the border in a motorcade, along with South Korea's unification ministry.
Meanwhile, the International Olympic Committee (IOC) announced on Monday it had extended the deadline to register North Korean athletes for the upcoming Pyeongchang Winter Olympic Games.
However, the IOC did not specify when the cut-off date would be extended and said the talks were on between South Korea and North Korea.
The decision by the IOC comes after the two Koreas agreed to sit down next week to discuss ways to cooperate in the Pyeongchang Winter Olympics to be held next month.
The Winter Olympics is scheduled to take place at South Korea's Pyeongchang from February 9-25.
North Korean leader Kim Jong-un, in a re-conciliatory New Year message in a televised address to the nation, had also said that North Korea was willing to hold high-level talks with the South.
South Korean President Moon Jae-in hoped that the bilateral talks between the two Koreas could pave way for the de-nuclearisation and peace across the Korean peninsula and broader coordination between the US and South Korea.
Also, North Korea re-opened the suspended inter-Korean communication hotline with South Korea, after it was closed down in February 2016.
The rare high-level talks come amid the increasing tension between the two countries as South Korea seized a Hong Kong-flagged oil tanker returning after allegedly transferring oil to North Korea a few days ago.
North Korea is also under tough international sanctions over the launch of three intercontinental ballistic missiles (ICBMs) and other nuclear tests last year. (ANI)
This story has not been edited. It has been published as provided by ANI