Netizens' hilarious reactions over Michelle Obama and Melania Trump tea meeting in White House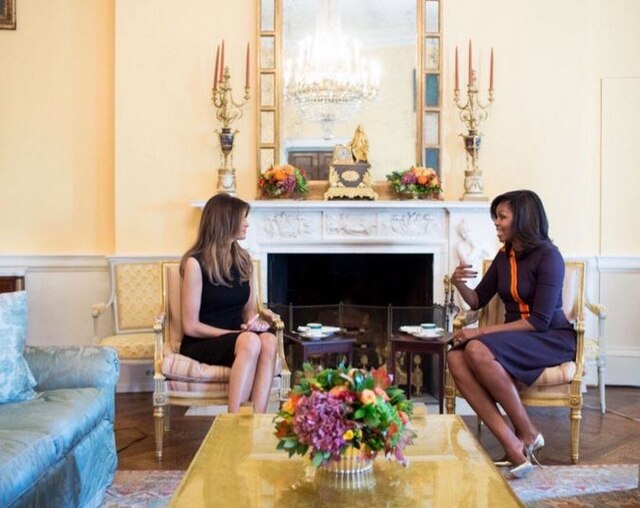 New Delhi: Donald Trump's win in the U.S Presidential elections came as a shock for a lot of people. While protests erupted in the US state of California after Trump was declared the winner of the presidential polls, all eyes were on Obama- Trump meeting in the White House on Thursday.
According to the reports, Michelle hosted the soon-to-be First lady for tea and a tour of the White house residence.  Both of them were seen sitting next to each other in the gold chairs in a photo released by the White house.
This photo attracted the Netizens and they could not forget Melania's plagiarized speech of the first lady Michelle.  Here's the twitteratis hilarious response to this meeting.



Actual footage of Michelle Obama and Melania Trump meeting today pic.twitter.com/NWSE0iO2Zh


— Lil Dzaddy (@imalbertgrr) November 10, 2016

Michelle: "well, um.... congrats on your husband becoming president"
Melania: "well, um.... congrats on your husband becoming president" pic.twitter.com/kHX3yesPAx

— ???? (@BadGyaIRihanna) November 10, 2016




michelle: so first you introduce yourself, for example- hi, i'm michelle. now you try!


melania: hi, i'm michelle pic.twitter.com/ASGf9k3aXU

— con(no)r (@ctfuconnor) November 10, 2016

MICHELLE: quit copying me
MELANIA: quit copying me
MICHELLE: stop
MELANIA: stop
MICHELLE: Melania smells
MELANIA: Melania smells...dammit

— Kalvin (@KalvinMacleod) November 11, 2016






*inside her mind*
Michelle: "At least I'm safe inside my mind"
Melania: "At least I'm safe inside my mind." pic.twitter.com/fpGgjJGRxT

— RACHEL EVANS-PETERS (@STINGLIKEA_BEY) November 11, 2016














Michelle Obama : Hi Melania. This is your Private Room


Melania Trump : Hi Melania. This is your Private Room. pic.twitter.com/BJHvaGCUDJ

— Kuns ⚡ (@DamnKuns) November 11, 2016











@NoHolyFool
Michelle: "I'm trying to talk you but you're just writing down everything I say"

Melania: pic.twitter.com/6uvZLTCGeN

— BUY LEMONADE NOW!! (@Beayonce__) November 10, 2016